Brenda Swanky
color consultant , home stager , interior decorator , interior redesigner , professional organizer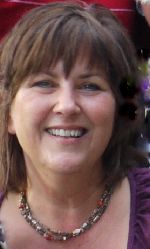 Williams Lake, BC
250-392-7759
bswanky@shaw.ca
B.SWANKY DESIGN--
HELPING YOU REDISCOVER YOUR HOMES POTENTIAL...
ONE ROOM AT A TIME...


My accreditations as a Design and Decorating Professional, Home Staging and Redesign Professional, Color Consultant and Professional Organizer are combined with 25 years experience in the home decor industry.

Over the last 7 years I have completed many more courses and seminars through the CGTA. These include visual display, marketing, design style and color trends.
My newest form of creative expression is writing articles for an incredible online art school magazine (The AAO). It's the connection with artists that keeps a skip in my step.
Innate creativity has guided my continued growth in the field of design. I worked enthusiastically for years in retail home decor. Many customers would ask for my advice about updating their homes.


The comment I most frequently heard was, "Brenda, I need you to COME TO MY HOUSE!"

Continued interaction with customers inspired me to expand and develop my skills to encompass a broad range of interior decorating, design and organizational services.

Phone or e-mail me to discuss what a consultation in your home or business can do for you.
Services
My consulting services are completely flexible based on your timetable and budget criteria.

DECORATING- Whether you are updating your current home or starting with an empty space, I can work with you from the creation of your new space to the completion of the project.

REDESIGN- There comes a time when our well loved and well lived in spaces need a well deserved makeover.

COLOR CONSULTATION- Considering that there are over 2000 colors to choose from, I can help you choose the perfect one. The overall difference in achieving this is in the hue, tint, shade or tone selected. Color has the power to change the shape and size of furnishings as well and the shape and size of the room itself. Let me show you how.

HOME STAGING AND ORGANIZATIONAL SERVICES-Buying a home is personal but selling one is BUSINESS. I will provide a professional, objective view (of what it will take) to get your home market ready, this includes offering you a range of stylish storage solutions that you will take with you to your new home. Let me help you make your home the BEST one in its price range.