Shyla Krezanoski
interior decorator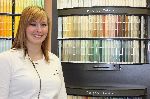 Camrose, AB
780-781-3276
Does your home require a unique decorating experience? Something that transfoms ideas into lovely liveable spaces?
D&S Decorative Designs was established in 2011, by Shyla Krezanoski, owner of D&S Decorative Designs. I offer a complete design experience from our studio based right inside the community of Camrose. Using a superior team of skilled contractors and tradesmen, I ensure attention is made to every detail.

I have developed an eye for hidden treasures and recognizing design potential. D&S Decorative Designs are creative, maximizing the use of the space. Working side by side with clients throughout the design process, I understand clients individual styles, personality, as well as their needs and desires.
I've grown up in the community of Camrose having watched and participated in the growth of Camrose for many years now. I've always had an eye for design. In my early teen years my family moved to Toronto where my father worked for Abbotsford Interiors working on high end cabinetry. He worked with professional interior designers, and passed on his experience and knowledge to me.

I currently work at Wideman Paint and Décor in Camrose and have the honour of working with two interior designers who have taught me a substantial amount. QC Design School has greatly developed my knowledge for designing.
Services
With experience on my side I can offer a wide range of design services, including in-home color consultations, entire home makeovers, and single room solutions. D&S Decorative design offers the first in-home color consultations FREE!

• Personalized, one-on-one service to my clients.
• Modifying window treatments.
• Rearranging new or existing furniture with coordinating accessories.
• Lighting fixtures and lamps.
• Personal shopping.