Anita Lowry
professional organizer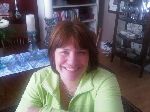 London, ON
519-701-2532
anitalowry@rogers.com
Don't think of decluttering as emptying your home - YOU'RE FILLING IT WITH POSSIBILITY.
WELCOME

You can have functional, stylish, warm and inviting living spaces regardless of how much you have to spend.

I am an interior decorating and professional organization service based in London, Ontario that offers a range of decorating and organizing services from consultations to one-day room makeovers and organization to full-scale redecorating on either an hourly or flat fee basis.

Call me when you want to create a vibrant and organized living space that integrates your values, your budget and your style.
********************************************
[/h] Profile
Anita Lowry resides in London, Ontario with her husband, two children and her golden retriever.

She is enjoying great success as a Professional Organizer. With clients from Aurora to Ottawa to London, Anita has a passion and a talent for helping clients make the most of their living environments which translates to balance within.

Specializing in residential interiors, Anita is also capable of assisting with business applications as well. Anita likes to stay involved in the community from past involvements with the rowing and curling clubs to now actively involved with her children's sporting events whether they be hockey, soccer or swimming.

Anita has earned a reputation for creative quality work, competitive prices and a friendly un-intimidating manner. Anita has been organizing professionally for the past 20 years assisting friends, family and co-workers. The highlight for me is when the client just smiles and takes a deep breath and says Aaahh now I'm home.

Anita says her clients are "real people with real homes, real budgets and real day to day challenges".
Services
Professional Organization

Reclaim order and peace of mind by allowing me to provide you with efficient organizing systems and solutions. A state of chaos and clutter does not have to be a permanent one. In fact, with the help of a professional organizer like myself, you can quickly turn your problem into an opportunity to maximize productivity levels and reduce overall stress levels. People often feel overwhelmed and unnerved when their living environment if filled with clutter. It's my mission to help clients regain control of your lives and reinstate order.

The rate for an interior styling and professional organization consultation on any aspect of your home's decor is $75.00 per hour.