Amy Picklesimer
professional organizer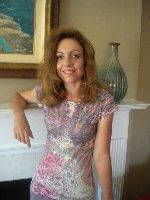 Salt Lake City, UT
801-891-7144
amypicklesimer@hotmail.com
Let me help you discover your efficient side.
As a person dominated by the visual appearance of things, I have enjoyed organizing spaces as long as I can remember. I was recently delighted to discover that I could turn my passion for organization and space planning into a way to actually help people achieve their goals in life. I look forward to helping each of my clients experience the sense of peace and fulfillment that comes from a well-managed, predictable, and aesthetically pleasing space.
I was born and raised in St. George, UT and have made my home in Salt Lake City for the past ten years. I earned a degree in Elementary Education from Southern Utah University and an M.Ed degree from the University of Utah. I greatly enjoy teaching 3rd and 4th graders in the Salt Lake City School District and plan to continue that career while also building a supplemental business as a Professional Organizer.

I have long been known as "the organizer" among my family and friends, and I also have a passion for design and space planning. It wasn't until a series of moves, combined with hours and hours spent watching HGTV, that I began to realize I may actually have some talent in this area. And thus, the birth of a Professional Organizer!

A few of my hobbies include playing the piano and guitar, reading, exercising, gardening, and enjoying nature in various different ways.
Services
I am a Professional Organizer and will help you with the following:

Sorting through your belongings to help you determine what is "junk"

Helping you effectively dispose of "junk"

Setting up an organizational system that works for you

Teaching you organizational skills that will continue to guide you when I'm no longer at your side

Arranging furniture and other belongings so that they are functional and pleasing to the eye

Planning all of your spaces so that you get maximum use and enjoyment out of them

I will help you tackle any space, regardless of its size, degree of difficulty, or limitations

I serve all areas of Salt Lake County, Davis County, and Utah County