Dana Roebke
interior decorator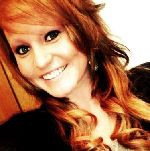 Columbus Grove, OH
567-204-4011
danaroebke@gmail.com
I'm Dana Roebke.I grew up in Columbus Grove, OH and have lived here all my life. I have started rearranging furniture and altering the looks of rooms ever since I was a little girl. I also have a strong background in painting and color, due to the abundance of rental houses my grandfather owns. My passion is to design and decorate rooms and repurpose things to significantly improve their appearance. I've always loved flipping rooms, whether it's just painting it or changing the style or layout the room has. My desired styles are the Contemporary/Modern look, as well as the Traditional/Country look.
I thrive for new ideas, whether it's spending the day watching HGTV, or looking through magazines. Creativity is one of my specialties, I am one to try over and over again to make it just right.I strongly dislike clutter, and would consider myself an overly organized person.I love a challenge and I love to try new things. When designing a room, my goal is to inspire, introduce creativity, and most importantly show the individual's personality throughout. As for my experience, I have worked with family and friends to change their homes to match each of their individual personalities. I am excited to help with any questions or concerns you may have when decorating your own home.
Services
Services I provide include:

. painting
. designing
. decorating
. offering color advice
. upholstering
. sewing
. furnitiure arrangement

I do Residential Designing and Decorating in Allen, Putnam, and Hancock counties.
Testimonials
"Dana...I absolutely love the bonus room. Love the color on the walls and the curtains are beautiful. The wrapping paper in the basket is perfect. You also did a great job on the sewing table." -Kym Frick