Donna Powell-Goings PhD
home stager, interior redesigner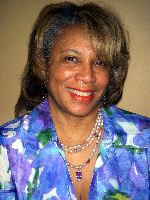 Beltsville, MD
301-646-7023
STAGE WELL TO SELL OR DWELL
Warmest greetings,
My name is Donna Powell-Goings and I would like to introduce myself to you. My background is in healthcare and I am employed as a Physician Assistant at the VA hospital. I have worked in this profession for the past 28 years. My profession requires me to pay close attention to detail and to listen attentively to my customers. I also have a doctorate in metaphysics which I did for my personal growth. Well, you may ask, how did the design part come into play? I have always had a great passion for decorating as well as a love of color and all things beautiful.
I started with my own home because your home is your sanctuary, a place of refuge. I would also stage my relative's homes to nest. When my parents were unable to manage in their home as it was, I redesigned the space for them to make it more conducive to their medical needs. I have also staged my own properties in the past that were sold and can say that they sold quickly and some of the staging that I did was written into the contract for the home buyers which was the ultimate compliment. One home sold in 2 days!
If you are interested in a dedicated professional who will listen to your needs and work with you to help you accomplish your goals, then Essential Elements is the one for you. Remember, home staging and redesign is the perfect prescription. I look forward to working with you very soon.
Services
Consultation: The initial consultation of your home provided by Essential Elements will include a 2-3 hour comprehensive assessment of the curb appeal of your home, all interior rooms, carpet, window treatments, furnishings, color, lighting, and any clutter. All rooms will be measured and a detailed written report outlining recommendations that would enhance the property in the order of preference of completion will be provided to the homeowner and real estate agent within 24 hours of the visit. $250 for homes 2500 sq ft and under, homes over 2500 sq ft $350
Preparation work: Essential Elements can remove the stress from your home staging or redesign by doing the leg work for you by contacting reliable contractors to provide the services you need such as painters, wall paper, flooring, upholstery, lighting, and window treatments. $85/hour
Redesign: Essential Elements will develop floor plans for your rooms and a redesign plan for you which includes furniture placement, de-cluttering and storage ideas, lighting, and suggestions for accessories that might be needed to enhance the room and its focal features. Color suggestions that accent your home will be provided as well. You can decide to implement the changes on your own or allow Essential Elements to do the staging of the room for you. $85/hour
Redesign and Staging Package: With this package, Essential Elements does all the work for you from redesign, preparation, color selection, lighting suggestions, window treatment selections, and staging. This is a great plan as you can decide to implement the changes on your own or allow Essential Elements to do the staging of the room for you. You leave in the morning and return to a completed room. **Painting, wall paper, and window treatment prices are based on affiliate contractors** $350 one room $675 two rooms $950 for 3 rooms (for homes 2500 sq ft and under, homes larger are slightly more)
Shopping Services: Sometimes it's hard to choose the right furniture, lighting, and accessories for your space. Would you like to update your current décor? Let Essential Elements be of assistance. I will shop with you or for you to make your decisions easier. $75/hr 2 hour minimum
Vacant homes: Selling your home? Buyers may have a difficult task of knowing how to utilize the spaces in your home. Let's keep the guess work out of it and stage each room so buyers can appreciate the special features your property offers and how well the home can work for them and their furnishings. Essential Elements will be happy to come and evaluate your vacant home that is for sale and provide a quote to stage the property. Remember, a staged home sells much faster than a vacant one. Contact Essential Elements for a quote.
Color Consultation: Choosing the right color can be a daunting task. So many colors to choose from! Let Essential Elements assist you with making the choice of the perfect color to make your property even more appealing to potential buyers. If you are looking to refresh your current space, we can choose personalized colors for you and your family or business. $150 and up