Diana Marshall
home stager , professional organizer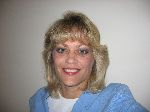 Germantown, MD
301-335-4668
HHOrganizing@yahoo.com
Home Harmony Organizing -
Less Clutter. More Time For What Matters.
INTRODUCTION:
This business was created to provide affordable, effective personal assistance to people who feel overwhelmed with the clutter and lack of organization in their home. Often these people have the responsibility of caring for an elderly parent or carrying a heavy work load due to an umemployed spouse or they have a special needs child or medical issues. And some people over the course of time with their increased responsibilities find themselves getting behind on paperwork, household chores and piled up possessions. There is often little time, money or energy left after each day to accomplish anything other than the basic chores.
EXTENDED BIO:
I have the compassion, experience and the motivation to help my clients get started. The BIG KEY is that it doesn't have to cost a lot of money and my clients are in control of the decisions and choices in creating a harmonious home.

I have a close family member who became a hoarder in her later years. In the past 5 years I have learned to assist her with cleaning and clearing out her single family home at various points in time.

Patience, sensitivity, and an understanding spirit is needed to approach the topic and assist people who have special needs in this area. I am blessed with a natural sense for organization and have the creativity and training to provide solutions. And I am a hard worker. You will see an immediate impact with my presence and direction in the first few hours of working together.
Services
SERVICES OFFERED:
* Organization
* De-Cluttering
* Home Staging
* Home Interior Painting
* Packing and Unpacking Assistance

PRICES: Hire to Inspire!

$30/HR (for Diana's services, $60/hr for 2 helpers)
$35/HR for locations further than a 20-mile radius from business site in Germantown, MD.

People often want some help, even if it is for a few hours or for a day or two. They need some personal motivation. They need someone they can trust, who has a clear background check, who is reliable, gives them practical solutions and will show up on time. That's where I come in. Also I am licensed, bonded and insured.

Contact me for additional information.
Testimonials
I can't begin to tell you how much your assistance has helped me to get going again. I stopped home schooling my boys 9 months ago and never got around to putting all the books, papers and things away. Once we started together deciding what to do, I realized you are a catayst for people to finish what they meant to get done in the first place. Thank you again!
Diane S., Gaithersburg, MD
I was so excited to see how you organized my kitchen drawers and got me focused on creating a "craft room" for myself. I always wanted one but it seemed it turned out to be the "junk room" instead. Thanks for your creative ideas and working along side me so I would be sure to get it done.
Cindy C., Rockville, MD
Caring for my mom has prevented me from having the time to keep my house clean and organized. I am so tired these days. Thanks for coming over for a few hours at a time and just clearing out the papers and organizing books and stuff. Now that it is mostly done, I feel like I can keep it up for the most part. And I will call you again if I need you!!
Sharon H, Germantown, MD