Stephanie Rose
professional organizer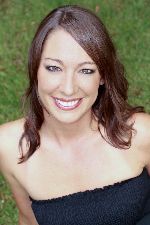 Branson, MO
417-230-1413
www.perfectlyplaced@live.com
Don't agonize... Organize!!!


-Florynce Kennedy-
Since I was young I have LOVED TO ORGANIZE everything in sight, but that doesn't mean that it doesn't take me time and effort to stay organized. I married the love of my life in 2009 and although he is an amazing man he could care less about keeping the house nice, neat and organized. We all know how hard it is to turn 2 houses into 1 especially when 1 of you thinks they need to keep every piece of clothing, furniture and maybe even the VHS tapes that we no longer have a VCR for! Wouldn't it be nice if we could just snap our fingers or wiggle our noses and 'TADA!' everything is in its place! That's where I come in place...Perfectly Placed!
I have been a professional dancer in Branson MO. for the last 10 years and you could always tell which make-up station and costumes were mine due to the way everything was so organized. I decided to get certified to be a professional organizer so I could help people organize their homes, offices and lives. Everyone is so busy these days so Perfectly Placed offers a simple straight forward way of getting you organized!
Services
There is no job too big or small for Perfectly Placed. Whether it's your office, closet, bedroom or garage, call or e-mail for a consultation so you can have the organized space you have been dreaming of.
Testimonials
I asked Stephanie to come help me because I WAS DESPERATE!!!! I had about 80 pictures all over the house, all in different frames and sizes. Nothing matched and the house looked CLUTTERED. Stephanie was AMAZING! Within hours, pictures were organized, placed in collage frames, bathrooms were reorganized and MADE SENSE! Office (which was a DISASTER) is now workable, organized, designed and efficient. The bedroom looks inviting and warm, instead of cluttered and cold. Stephanie taught me the correct, sensible tips to keep my house organized like it was when she finished the job!
Joy Murphy