Joanne Patoine
color consultant, home stager, interior decorator, interior redesigner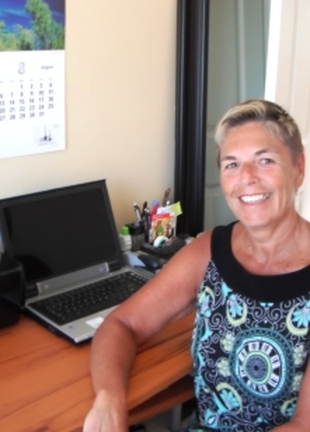 Ottawa, ON
613-841-3965
jspatoine@rogers.com
Best value for your dollar!
I am currently retired from a profession that I have served for over 30 years and now looking forward to dedicating my time to a passion –Interior Decorating and Design- that I have delved in at an amateur level with family and friends.
The QC Design School has provided me with the appropriate tools in becoming a successful professional.
I have a "hands on" approach to all my projects from beginning to end; whether it be a color consultation, room design, decorating, painting or a sewing project.
I look forward to taking on new challenges, growing in different directions and moving forward in my new profession as an Interior Decorator/Designer.
My extensive experience within the Health Care System and my commitment to achieving the highest quality aligns extremely well with the expectations involved in Interior Decorating and Design.
The tools and techniques I have developped from this background apply directly to the skills required in I.D.&D.: enhanced listening skills, acute attention to detail, critical thinking attributes, strong organizational skills, the ability to guide and direct the appropriate resources to maximize positive project outcomes and provide superior customer service and satisfaction.
Services
Balance must be achieved with functionality and aesthetics – design solutions must satisfy both the basic function of the space and the personal taste of the client.
Duties and responsibilities of a designer vary depending on the project: preparing layout plans, developing design styles, choosing color schemes, selecting furniture-accessories-window treatments-flooring, keeping in mind the timeline as well as the budget involved.
The following Q&A may provide a better insight into the overall range of custom work: as a designer, decorator and seamstress, I consider every client unique as well as the project itself.
Q. How much should I expect to pay for a project?
A. Price will vary – before determining your specific price quote - fabric, furniture, window treatment, flooring, paint choices, design detail and other elements such as time and client involvement are all considered.

Q. Why choose to have it done professionally?
A. Customization is the product of design giving you an opportunity to express yourself in a satisfying way. Artistic touches, preferences, personal choice and design features can all be tailored to your request, when appropriate. Not only do your clothes, accessories, home finishing express how you feel about yourself, they give others a glimpse of who you are and how you want to fit in or stand out. Yes, it takes longer and your are committing to an invisible project before the work begins, but you will be an active participant in an artistic project.

Q. How does the process work?
A. To begin, there must be an idea. It can be as specific as a photograph, sketch or existing design. I t may be an inspired combination of images, colors, textures and or artistic work. During the consultations, the project specifics will be discussed and the labor/material price quotes confirmed.

Q. Do I have to find the design or will you help me choose?
A. If you have already made a selection, I will assess and review its appropriateness and assist you regarding the various elements involved within the project.
Q. Will I need to purchase the required resources needed for the project?
A. You may choose to do so, however it is recommended to proceed with a consultation first in order to obtain a better understanding of the elements involved and allow for any changes prior to purchases. Your approval will be required for any changes.

Q. What is a "redesign"?
A. This is when an existing element is dramatically altered or dismantled to create something quite different from the original. This is beyond the scope of traditional decorating and usually requires a great deal of creativity and expertise.

Q. How long will the project take?
A. It will depend on the scope of the project, the schedule of the people involved if a specific timeline is required and the availability of the resources to complete the project. Always allow ample time to avoid stress of any unforeseen delays.

I hope this information has provided you with a better understanding of the process. Please feel free to contact me for any further inquiries.
Testimonials
Totally overwhelmed by the finished product, professionallism and attention to detail and my limited budget.
Denise
Surprised and satisfied with the end result of the project due to my time restrictions and budget.
Suzanne
Impressed by her ability to capture and deliver on my ideas as well as provide her own creative touches while maintaining the essence of the design as well as keeping within the alloted budget.
Denise