Deborah Chipper
color consultant, home stager, interior redesigner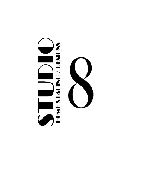 Barrie, ON
705-733-5586
studio-8@live.ca
We make your 30 seconds count
Deborah's company, STUDIO 8 HOME STAGING/DESIGNS is committed to helping our clients take their home from "For Sale" to "Sold" in as little time as possible.
Our approach is to stage your home to appeal to the maximum amount of buyers and help you realize maximum equity.
We are located in Barrie Ontario, serving Simcoe County , Bradford, Newmarket, Brampton, Mississauga, Toronto
Deborah has had a life long interest in home decor and design. Having bought,staged and sold many homes for herself, understands what it takes to make the process successful and rewarding.
Deborah proudly received excellent training in Home Staging and ReDesign from QC Design School and is on top of today's design trends. She would welcome the opportunity to meet and consult with you.

Studio 8 Home Staging/Designs is a member of RESA (Real estate staging association)

Visit us on Facebook
Services
Services Include:

*Full home staging services from CONSULTATION to DESIGN PLAN to SHOWCASING
*Interior Re-Design
*Colour/furniture/lighting/accessorizing consultations/plans
*Home Organization
*Space planning
*Furniture and Accessories Rentals
*Estate sales - Preparing the property for the market
*Vacant home staging
*Senior space re-design to ease mobility within the home
*Downsizing plans
Testimonials
Hi Deborah, Randy and I would like to thank you for your work on our home in Sutton. It had been on the market for quite awhile(vacant) and just wasn't selling. When our real estate agent suggested having you come in and stage it we had no idea of what a difference it would make. It looked so good we almost wanted to move back in !!! The good news is "IT SOLD"(and quick to). We will be calling you again for sure. Thanks again.
Bonnie & Randy Moore - Dunkirk Ave.
Deborah I would like to take a moment to say what a tremendous experience it was watching you transform my home on Hanmer St. It literally went from needing a face lift to "WOW" when I walked through the door after you had finished. You are great at what you do and I recommend you at every opportunity. Thanks so much.
Geoffrey A. Barrie Police Constable
Deborah, your company Studio 8 Home Staging/Designs has become an integral element in the marketing and showcasing of my listings. I feel confident in introducing you to my clients and know that your professional and artistic approach to home staging will appeal to a wider variety of buyers. I highly recommend you to my fellow Realtors with the utmost confidence.
Leanne DiMatteo, Sales Representative Royal LePage At Your Service Realty, Brokerage
See All Testimonials