Renee Nazario
interior redesigner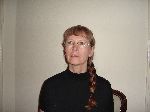 Albuquerque, NM
Redesign Rx. The prescription to a beautiful room or a complete house.
I worked in the legal field for over twenty five (25) years and as such I have developed an eye for detail, organization and also patience. I chose the redesign field because as a redesigner I feel it is an honor to work with clients own possessions, which are already suited to their taste and they are comfortable owning. Redesign is a service that is available and suited to a wider client base. Seeing your own possessions in a new light will make them new once again.
I received additional training in the commercial art field that can be used in color choices, artwork and creating balance. I have years of sewing knowledge which will be an asset in creating pillows or drapes if no purchased designs are available.
Services
I will work with each client to redesign any room or an entire house. Redesign is using a clients own furniture and accessories to create a new living space. An initial interview with be set with the client, where I will listen to any complaints about the room(S) and their vision for the space. I will make a floorplan for the room with existing furniture but presented in another layout design to create more usable space and comfort. I can offer suggestions for color, lighting and function. The client will be an intricate part of the whole redesign process. My desire is to make the client happy with the redesign process and the end result.