Laura Farrar
professional organizer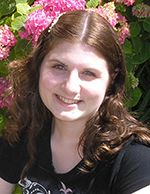 Martinez, CA
510-691-0431
contact@restoringsimpleharmony.com
Restoring Simple Harmony: simplicity is within reach!
If clutter, papers and piles are controlling your life, it's time to get them in order and re-purpose your space! Using individualized techniques that work with your personality and lifestyle, we will work as a team to build order out of chaos.
After years of creating systems for her own papers and piles (believe it or not, as a child she was very disorganized), Laura began to see a pattern to pulling control out of chaos. She read her first book on organizing, Taming the Paper Tiger by Barbara Hemphill, (a recommended resource!) as a teenager and was amazed that organizing could be a career.

Though her dreams encompass nothing short of changing the world (writing, speaking, mentoring, running a non-profit teen center, etc.), she is driven by the simple desire to make a difference in people's lives--offering hope when there seems to be none left.

With a B.A. in Early Childhood/Human Development, over ten years of experience working with children and adolescents, and four years of administrative work, Laura loves using her insight into the human mind to create a process of achieving order and designing organizational systems that make life just a little bit easier.
Services
We help adults, teens, children, and families get control of chaos in their homes and small businesses by assisting with space planning, de-cluttering, downsizing, children's rooms and home and office organization.


Specializations
-Organization for Families with Young Children
-Organization for Adolescents
-Paper Management/Filing Systems
-Family Management
-Office Organization


How it Works
Our services begin with a complimentary mini-assessment over the phone, followed by an on-site home/business initial assessment. At the initial assessment you will receive a list of tips and suggestions based on observations from the tour of your spaces.

At that time we can discuss the options for hourly organizational coaching sessions if you so choose. If you decide to schedule regular sessions, we will work together on each area that needs attention, creating individualized systems that will allow you to maintain order.

Together we will work in your rooms to make more space by parting with items you no longer use or need and using the freed up space to implement your personal organizational system.
Testimonials
"I love my new filing system! It's incredible how much paper we recycled and how manageable it is now."
Jessica
"Wow, our storage room is incredible now. The mess she got rid of makes everything neat and accessible."
Gabriel