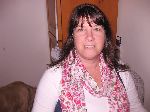 Lancaster, ON
613-347-1760
liselapierre07@hotmail.com
Lise's Home Staging
" Staging is a Financial Investment"
My name is Lise Lapierre, I live in the Township of South Glengarry, in the village of Lancaster. I decided in the past years that it was time for me to have a change in career. I have always enjoyed decorating, re-arranging furniture in a home. So decided to try my hand at Home Staging. Home Staging is a relatively New service designed to help prepare your home to sell while maximizing it's appeal to potential buyers.
Since I'm a beginner at this career and yet anxious and willing to show off my skills. I seem to have a good eye for this sorts of things . That's what my friends and family members have told me.
Home Staging is a very good service to Offer homeowners. It will help improve the homeowners precious commodities sell faster for bigger profits or just to beautify your home to your liking, by listen to your ideas and wishes.
I am situated in close approximaties to surrounded cities. ex. Cornwall, Montreal,Ottowa
Services
My services that I will offer my client is to freshen-up your home by DE-cluttering, rearranging your furniture, add maybe new accessories if needed or choose a new colour scheme. Give you a better curb appeal to your home.
I promise to do my up most best to save you time and energy , increase your investments
All this for a reasonable fee.