Susanne Monteleone
professional organizer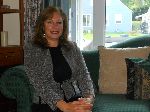 Roslyn, PA
610-291-7971
sjbmonte@msn.com
Let me help you, help yourself, in getting your life and home in order. Let my expertise in the field show you how easy it is!
Hello to all of my potential clients!

So very happy you took the time to search for me to help you get your life, space and piece of mind in order!

My name is Susanne and I am a Professional Organizer. I have my certification through QC Design School and allows me to practice nationwide. I also have other professionals that I deal with to assist me with my work such as Interior Design professionals, movers for large items and many other professionals. I desire to help you change bad habits, tackle lifes' occurances, social pressures and any type of rebellion phase that you may be holding on to, to make your world a better place.
I have always had 'what it takes' to be organized and to keep things that way. It is who I am! I believe my life and your life can be more enjoyable if things are in order. Not only does it save you time, it saves you money as well. I will explain this to you when we meet.

I have an Education background. I have my bachelors' degree in Education with a Physchology minor. I feel as though this helps me immensely in this field by being able to educate my clients' to help them to better themselves. The Physhology minor helps me to understand the type of client that I am dealing with and how to approach them in the matter that is best suited to their personality traits. Everyone is an individual and has a different personality. I am educated to pick up on your style and help you with the best of my knowledge to become happier and content in your life. Whether you are a Procrastinator, a pack rat, a sentimentalist, an Environmentalist or whoever, I can help you, help yourself too.

I have many years of experience in being and Organizer. Since I was a little girl, my teenage years and my adult years have always been just that! I live my life everyday organizing myself and want to share my knowledge.

I have experience with friends and family members and can give you contact names as references as well as pictures of my work in my portfolio.
Services
I have always had a desire to help others. I can reduce the stress, impove your health, your relationships and save you time and money.

I will start with exactly that...a staring point, which in other words, is a degree of concern.
We will discuss Order, Assessing Value of your Items, placement of your Items and we will end with educating you to be the best you can be.

I understand floor plans which adds value to my service by transforming a room into a more functional and organized space.

I can work with one room or many rooms. I will organize you according to the activities that occur in the room by sorting and decluttering the area. I will do this by using fixed and movable storage in the room to keep it looking beautiful!
Testimonials
Being able to find what is needed instantly in my office has multiple benefits: reduces my stress significantly creates time due to not having to dig and search or recreate what MUST get done. feels good to feel competent and organized No longer embarrassed for people to be in my office space exponentially increases my self-esteem I am so ready to hire Susanne Bryman to do each of my rooms and closets. Susanne is the best, encouraging, inspirational, educational astute and personable. Corby
Susanne Bryman is a blessing!! She is patient, she listens, and she understands. Despite all the items I purchase to organize myself, I never seem to pull it all together. I always seem to have a box of "stuff" that still needs to be filed or gone through and piles of stuff around me on the floor. Without a clean slate, the work just kept piling up. Susanne came into my home. We sat and talked about my office, my work, and my habits. Then we went through everything on the desks, table, and floor to determine the best place to location for each item and the most efficient and effective way of organizing it and me. This project seemed so HUGE to me but she plowed through it in the most understanding, patient, and effective manner. I couldn't believe the way the office looked when it was finished. How we got through it all in the amount of time it took blows me away. :) I am so pleased with her work I am still talking about my organized office.