Marta Morilla
interior decorator , professional organizer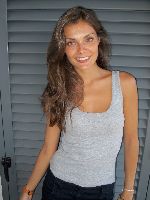 New York, NY
marta.morilla@yahoo.com
Organize... Breathe... Relax...

Being organized is a talent I was born with.
As a self-reformed shopaholic, living simply is a lifestyle I have sought out.

I have worked in the fashion industry for over fifteen years, which has required me to move from city to city around the world, becoming an expert in organization and moving homes.

After completing my Interior Design and Professional Organizing diplomas, I moved to New York and started teaching clients how to bring simplicity to their lives and help them breathe…
I not only practice what I preach, but I understand the immeasurable benefits that come from a 'living better with less' approach. With these personal lessons I take a holistic approach to organizing. Helping my clients create a simplified yet beautiful space that works for them and their unique needs.
Services
- Home Organizing: From getting a room ready for a new family member to restoring order by putting everything in its place, I will help you put a plan and tools in place to help you get organized and stay organized.

- Home Office Organizing: In the day to day running of your business, home office organization is one of those things that can easily get away from you. I can help you get your business running more effectively and help you keep focused on doing what you do best.

- Home Downsizing: Downsizing is a challenge for anyone. Having a compassionate and experienced partner in the process can make all the difference in the world.

- Move Organizer: I offer tools and solutions to help you organize your move, removing the stress and hassles of packing and settling in to your new home.

- Garage Organizing: Your garage is the place you store hazardous materials, sharp gardening tools and other household items. It can suddenly become a default closet, while your family vehicles sit out in the baking sun, freezing cold and other elements. I can help you get your garage in order so it's well organized and is used for its original purpose.

Free consultation.
Contact me at: marta.morilla@yahoo.com
Testimonials
The work done met my expectations and definitely beyond my expectations. I felt I learned the skill of maintaining the organization and months later I am still able to keep things organized. The ability to find things more quickly and easily; not to keep things with no meaning and no place to place them! Marta, you helped me have a home and to become organized something I never thought possible but dreamed of. I will definitely recommend you.
Raphael Dominguez, New York
Finally, after years of living with clutter in my life, I found the perfect solution. I was referred to Marta by a friend of mine who told me she would be able to help me organize my life. I was pleasantly surprised with the results. Not only did Marta help to rid me of all the clutter I have accumulated over the years, she also taught me how to maintain my home and my life clutter free. Highly recommended!
Jess Sarsfield, New York