Aurora Maria
makeup artist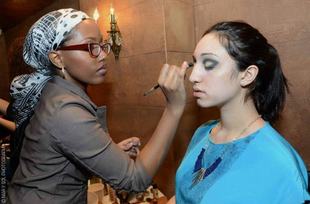 Brooklyn, NY
203-617-8676
aurora@makeupbystorm.com
Being a model for over seven years has taught me to appreciate the styles and colors that stand out above the average. Couture, Urban, Pop Culture, and today's Modern/Retro styles allows me to see the uniqueness of each individual and bring it out in it's truest form. Fashion. Art. Creativity. Style. All of these things are what inspire me.
My style is to unleash each of my client's uniqueness with the rare talent of bringing out the best of each person's style through my makeup artist and aesthetic skills.

All tools and make-up that I use are environmentally-friendly, natural, and are lightweight on the skin. All products are free of harmful chemicals and not animal-tested.
Services
We provide your makeup needs for all occasions:
Weddings
Photo Shoots
Proms
Runway/Fashion Shows
Video Shoots
Parties
... and more

We also offer skin care services to bring out the radiance of your skin.

A facial and your makeup done? You can't go wrong!
Testimonials
Your movements feel like I'm getting a facial. So relaxing.... I love it!
Yimilya Talley
This is amazing! I absolutely love it. Extremely talented!
Doreen L.