Ashley Day
wedding planner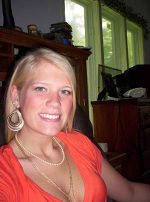 Nashille, IN
812-325-3824
anhayes27@gmail.com
Allow me help you get your Happily Ever After off to a beautiful start.
Hello! My name is Ashley Hayes and I am a professional wedding planner and designer. When design a wedding I first like to get to know the couple as much as possible. I enjoy bringing out the personalities of individuals and letting them be reflected in their special day. I belief is that when you walk into the venue of your wedding it should be a direct reflection of the couple getting married. That is my first and foremost concern and honor. I enjoy a challenge and unusual requests to make each wedding as unique and different as the couple is.
I remember after graduating college I asked myself what do you want to do? What is it that you love? And after making a list I realized that at the top of that list were romance, decor and making dreams come true. I just love love! So naturally the wedding field was the one for me.

I graduated from Ball State University with a Bachelors degree in Apparel Design. I worked for a company in New York as an assistant designer before I realized it wasn't what I loved. It was lacking that passion and personal connection that I so love. I was born and raised right here in Nashville IN and love not only the town but it's wonderful atmosphere. I have worked my whole life in this town and knew it was just where I was meant to be. My mother owns a home decor store there which is where I developed my eye for design and passion for decorating space I could get my hands on. I am currently their visual merchandiser and still get to do my favorite part of the job, which is creating the displays within the store. So all these things and much more is what have lead me to this path. I feel honored each and every time I am asked to help with somebody's wedding day plans. It's a momentous occasion that most people dream about since they were very young and that is nothing to take lightly! Thank you so much for taking some time out to get to know a little about me, and I can't wait to get to know you and your future spouce! Please feel free to contact me at any time.
Services
My services can include as little as helping the day of the event run as smoothly as possible or can be as much as helping you decide on a theme, invitations, caterer, music and all the rest of the many many tasks that come along with planning a wedding. I specialize in design and decor but am knowledgable in all areas and am available to help take some of the workload off your shoulders and make this an enjoyable experience for you.