Desiree McGee
event planner , wedding planner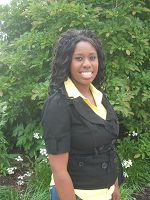 Rockford, IL
815-275-3950
Sdesimonies@aol.com
Your style, your dream, your day! Memories to last a lifetime!
Desiree McGee, the creator of Gifted Designs, is currently a Preschool/Kindergarten teacher in Rockford, IL. She has always enjoyed planning parties and decorating.She especially loves attending weddings. As she planned her own wedding, she realized her passion for creatively producing such social events. She decided planning others' weddings and events would become her future career endeavor.
Prior to her certificaton, Desiree McGee, completed her Bachelors of Science degree in Early Childhood Education with a minor in mathematics. Teaching has given Desiree such talents as interpersonal skills, time management abilities, and organizational skills.Upon completion of her event and wedding planning certficiate, she has planned various events as weddings, award banquets, luau parties, Mother's day events, and birthday parties.
Services
Two Hour Consulation:
Discuss your event or wedding vision, along with the benefits of using an event coordinator.


Day of Services:
Two-hour consultation 4 to 6 weeks prior to the wedding (Following the consultation, weekly discussion via email or phone)
Create a groom and bride checklist
Create a detailed itinerary and contact sheet for the entire bridal party and all vendors
Coordinate the delivery and return of all rental items
Distribution of all final payments on day of wedding
Orchestrate the wedding rehearsal and ceremony
Line up and cue entire bridal party
Ceremony and reception set-up and take down of all decorations, favors, placements cards, menus and much more
Help with reception layout design
Use of consultants wedding day emergency kit
Handling and packaging up of all sentimental items on wedding day
Follow up for final thoughts and overall satisfaction
Internationally Certified Professional Wedding/Event Planner


Crystal Package:
Unlimited emails and telephone calls
Up to 10 hours of meetings with bride and groom and the vendors
Provide unlimited professional vendor referrals
Assistance with selecting and contracting of all vendors
Follow up calls with all vendors to discuss details, agenda and directions
Provide a personalized and detailed budget
Create a groom and bride checklist
Create a detailed itinerary and contact sheet for the entire bridal party and all vendors
Travel & hotel accommodations for all guests
Coordinate the delivery and return of all rental items
Distribution of all final payments on day of wedding
Assist with locating and contracting the perfect ceremony & reception sites
Orchestrate the wedding rehearsal and ceremony
Line up and cue entire bridal party
Ceremony and reception set-up and take down of all decorations, favors, placements cards, menus and much more
Help with reception layout design
Use of consultants wedding day emergency kit
Handling and packaging up of all sentimental items on wedding day
Follow up for final thoughts and overall satisfaction
Internationally Certified Professional Wedding/Event Planner


Diamond Package:
Unlimited emails and telephone calls
Up to 30 hours of meetings with bride and groom and the vendors
Provide unlimited professional vendor referrals
Assistance with selecting and contracting of all vendors
Follow up calls with all vendors to discuss details, agenda and directions
Provide a personalized and detailed budget
Provide information on how to obtain a marriage license
Create a groom and bride checklist
Create a detailed itinerary and contact sheet for the entire bridal party and all vendors
Travel & hotel accommodations for all guests
Assist in creating your signature wedding logo
Assistance in choosing a theme, style and colors that reflect your wedding day vision
Assist in selecting the invitations and save-the-dates
Assemble and mail the save-the-dates and invitations (Client responsible for postage)
Handling and creating an excel spreadsheet of replies
Coordinate the delivery and return of all rental items
Distribution of all final payments on day of wedding
Assist with locating and contracting the perfect ceremony & reception sites
Orchestrate the wedding rehearsal and ceremony
Line up and cue entire bridal party
Ceremony and reception set-up and take down of all decorations, favors, placements cards, menus and much more
Help with reception layout design
Use of consultants wedding day emergency kit
Handling and packaging up of all sentimental items on wedding day
Provide bride with information on how to change her name
Assistance in choosing and booking honeymoon
Follow up for final thoughts and overall satisfaction
Internationally Certified Professional Wedding/Event Planner
Creating a signature style wedding



Other Event Services:
A free two-hour consultation to discuss your event vision, along with the benefits of using an event coordinator.


Other Events:
Birthdays
Anniversaries
Baby Showers
Bridal Showers
Retirement Parties
Graduation Parties


Other Event Package:
Help create, order & mail invitations (Client responsible for postage)
Handling invitation replies
Assisting in choosing places to register
Assistance with selecting, contracting and follow-up with all vendors
Assistance in choosing a theme, style and colors that reflect your vision
Set up and take down of the party
Assisting in vendor selection
Providing game ideas for the evening
Attendance and assistance at the party
Unlimited emails and telephone calls
Travel accommodations for guests
Provide a personalized and detailed budget
Travel & hotel accommodations for all guests
Handling and creating an excel spreadsheet of replies
Coordinate the delivery and return of all rental items
Distribution of all final payments on day of event
Event set-up and take down of all decorations
Follow up for final thoughts and overall satisfaction
Internationally Certified Professional Wedding/Event Planner
Creating a signature style event