Colette Tabbah
event planner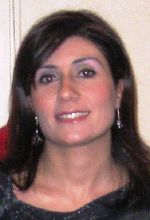 Teaneck, NJ
201-836-0128
coljon@hotmail.com
Sweet Memories That Age Like Wine
Welcome to Joyful Crowd Events. We plan and organize receptions and parties to celebrate all your social functions, festivals, and occasions. Our mission is to create a joyous, memorable, and stress-free event to commemorate your celebrations.
We provide you with a level of service that is professional, trust-worthy, and successful. We know how to skillfully heed every little detail, not leaving anything to chance and handle your event from start to finish. It is our responsibility to secure the best deals from vendors and suppliers.
We assume all responsibilities for pre-event communications, site planning, and all aspects of the event management so that you can sit back, relax and enjoy your day.
We realize that our clients are looking for value, which is a function of both price and quality. It is our goal to make certain that you feel you are receiving exceptional value for the money you are spending to host an event, whether it is a personal, social, corporate or religious function.

I have an associate degree in accounting and I worked for over than 20 years in that domain. In that capacity, I have an exceptional aptitude and great attention to detail, and process design. I have managed, planned and executed weddings, birthdays celebrations, baptismal and first communion occasions, for family and friends from various cultural backgrounds.

After finishing QC School of event planning program, I became a certified professional wedding and event planner and I am so happy I can finally make any dream come true.
Services
Wedding Planning:

Invitations

Wedding showers

Bachelor parties

Rehearsal dinners

Wedding Ceremony

Reception

Honeymoon


Party Planning


Private Events:

Birthday parties for all ages

Costume and themed parties

Graduation parties

Sweet Sixteen

Quinceanera

Engagement parties

Baby showers

Corporate events

Holiday parties


Religious Events:

Baptism

Bris and Britah

First Communion

Confirmation

Bar and Bat Mizvah