Carey M Hamilton Sr
event planner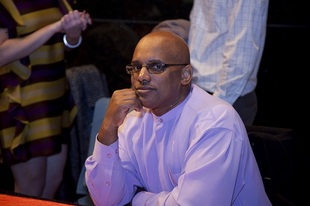 Newark/ Irvington, NJ
973-960-5379
Careysr@atofsc
Home Of The Collard Green Eggroll !!!
In August of 1991, I catered the 29th Birthday Party at the home of Super Bowl Champion NY Giant, Carl Banks. After the birthday celebration was over, Mr. Banks signed a picture for me and said "thanks, for adding the soul to my Birthday". That day A Taste of Soul was born.
My signature dish is a Collard Green Egg roll, which is available in three varieties, vegetarian, turkey or salmon.
Our menu includes the standard soul food staples such as, Fried Chicken, Baked Macaroni & Cheese, and Peach Cobbler. However, A Taste of Soul has expanded our menu to incorporate a variety of vegetarian dishes and other innovative menu items s
Skill Sets • Recruiting / Hiring / Staff

Supervision
• Scheduling / Labor Control
• Food Cost Accountability
• Inventory Control and Cost Analyzes
• Management of Daily Operations
• Marketing, Promotions and Sales
• Budgeting and Accounting
• Industrial Cooking Skills

Experience A Taste Of Soul Enterprises 08-97 to Present Newark, NJ

Catering Manager-CEO - Responsible for the successful operation of catering business. Execute event management including sales, and marketing, event planning, and staff management. Ensure customer satisfaction, profitability, safe food handing procedures, inventory control, while maintaining operational excellence.

WBGO FM
11-99 to Present Newark NJ
Accounting Associate
Responsible for accurate preparation and analysis of financial reports for a private non-profit Jazz station( WBGO-FM) with annual budget of 5.5 million annually. Maintain account payables and receivables. Monitor and report on expenditures. Develop budget. Prepare account reconciliation, handle cash allocations, write checks and process payroll for staff of 52.
Sodexho USA 10-91 to 02-93 Montclair NJ

Catering Assistant - Responsible for customer service, banquet planning, food production and delivery. Maintained quality assurance, staff supervision and daily operations.

Radisson Hotel 09-91 to 02-93 Newark NJ
Banquet Waiter - Responsible for superior wait service, bartending, & cooking.

Quality Inn @ Robert Treat Center 07-87 to 02-90 Newark NJ

Assistant Food and Beverage Director - Responsible for proper execution of food and beverage operations. Supervised, staff of twenty cooks and thirty five wait staff. Controlled cost, processed payroll, purchased supplies, and ensured customer satisfaction.
Services
Over 35 Years Of Customer Service experience.
Over 30 years Of Food Service experience.
Over 25 years Of Purchasing,& Inventory Control
We Specialize in Soul Food Catering and have planned
events from Weddings to Special Events up to 300 people.