Debbie Hall-Chambers
wedding planner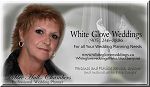 Niagara Falls, ON
905-246-8886
whitegloveweddings@telus.blackberry.net
...the infinity of love is truly an awesome thing. To help a couple express their language of love on their special day is a memorable exper
...WHITE GLOVE WEDDINGS

Being a nurse has taught me the patience and understanding of human nature, and the strength of human emotion.

The perfect wedding does not consist of an enormous budget,,the most expensive food,, the rarest of flowers,, or even the finest, designer gown. The perfect wedding consists of the love between two people, and the way they choose to express themselves to their friends and family on the first day of their new lives together.


...the infinity of love....the completeness of two souls...the perfect wedding to celebrate the perfect marriage.
I have been a nurse in niagara for 30 years, so I have been able to make a lot of business contacts over the years.I have also acquired a skill for dealing with many types of people and situations.


I am available for most of the niagara region.
Services
I am available to plan all or some of your special day. I can offer a consultation to determine your expectations of your wedding planner, or I can offer my services to help thoughout your wedding planning process. Every moment of your special day is important, the memories will be forever.

- A ONE HALF HOUR CONSULTATION IS FREE. It will give you enough information to decide what your expectations of your wedding planner are, and help you determine where you will need the most help in planning your wedding. My time is very flexible and I can work around both of your schedules.