Stephanie Lettre
wedding planner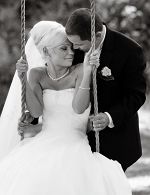 Brampton, ON
905-230-3119
scammaert84@hotmail.com
Once Upon A Wedding.....By Stephanie
A little bit about me….I was born and raised in Ottawa but now I live in Brampton, part of the beautiful GTA. Weddings have always been a beautiful and interesting event for me. As most little girls, I can barely remember a time where I wasn't planning and dreaming about that perfect day, wearing that beautiful dress, getting ready to marry my prince charming.For me that day came on September 1st 2007 when I married my soul mate, my husband Guillaume. My passion for weddings did not stop then, on the contrary made me realize how much I truly love every aspect there is about weddings and all the details and planning that come with it.
I finally realized that I should do what makes me and the people around me happy.Wedding planning is now part of my every day life and I really enjoy what I do.

I have planned my own wedding, as well as my best friend's wedding and my sister-in-law's wedding, and currently working on 3 more. I have an eye for details and love being creative and making things unique.
I am also perfectly bilingual, having spoken french my whole life.
Services
I am happy to offer a range of different packages depending on what your needs might be, anywhere from doing all the research and reporting back to you with all the ideas and suggestions you need, to being there for you strictly on the wedding day, to step by step full package from taking care of every detail all the way up until the wedding day, it is all up to you and what you want. My only goal is to give you the beautiful wedding that suits you and your personal style... making things as unique as you are for the perfect day.
Please feel free to contact me for further information.