Sheree Lane
event planner , wedding planner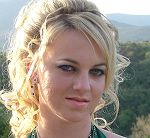 Flemington
+27765455146
sllnorthernlights@yahoo.co.uk
Events are my speciality
My name is Sheree and I am a professional events and wedding co-coordinator. It is my job to make sure that your event runs smoothly and make sure that nothing goes wrong so you can relax and enjoy your event. I like to make sure that all my client's needs are met and that they always feel as if they are in control but without the stress. I am a very creative person and love to design original events that reflect the client's personality. I feel it is always better to have many options so I always provide my client with a lot of options so that they can pick the one that is just perfect for them and their event.
I come from South Africa and Matriculated from York High as an A agragate. I am busy completing the events and wedding coordination course of QC event planning school. I have already planned two successful weddings in South Africa for my friends.
Services
I provide many services and they include the folowing

Events planning: this includes birthday parties, anniversary parties, corporate functions and retreats as well as chrisenings, barmitvahs etc

Wedding planning: this includes engagement parties, stag and doe parties, bachelor and bachlorette parties, rehersal dinner, ceremony and reception as well as the morning after brunch etc.