Rochelle Maze
event planner , wedding planner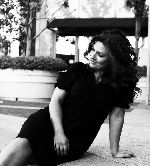 San Francisco, CA
415-624-6383
Rochelle@SienaAlineEvents.com
Honoring Life's Celebrations with Elegance and Style
As long as she has known, Rochelle has had a passion and love for planning events of every kind and for any reason. Raised in an Italian household with a large family, food and celebration were always on the forefront. "I remember the first party I ever organized….my best friend's Sweet 16 Birthday Party. I loved everything about the planning process and all the details that went into the food, invitations, entertainment, decorations…and well, it was a huge success for us teenagers! I felt such a sense of gratification knowing I helped create a special moment in the life of my friend and the positive energy I felt from being in such a fun environment was unmatched.

Over the years, as others would break out in a cold sweat, frantic and panic stricken at the idea of planning a large family affair, I embraced the opportunity with great enthusiasm and was deemed the official family party planner, organizing countless Holiday and Birthday parties, Bridal Showers, Anniversaries and even my own wedding, feeling relaxed, enthused and energized every step of the way.

As many of us do, I journeyed down a different road, into the field of education as an elementary teacher for ten years before rediscovering my true passion once again as an event planner. So I've come full circle with what I once viewed merely as a fun hobby as a child - what could be better? That same excitement and energy I felt as a young woman, I still feel when interacting with clients, their family, and friends. Having the privilege of being part of a happy time in the life of another is what makes me thrive as an individual."
Services
I offer several different levels of service, depending on the amount of assistance you require.

* All Inclusive Wedding Planning (1-2 years prior to wedding)

* Partial Wedding Planning(6 months to 1 year prior to wedding)

* Month of Wedding Coordination (1-6 months prior to wedding)

* Wedding Concierge Services

* Special Events (Birthday, Anniversary, Graduation)

* Corporate Events

Please visit our website for more information.
I look forward to the pleasure of speaking with you.