Amy Esparza
event planner , wedding planner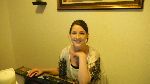 Lompoc, CA
210-834-0746
pure.bliss2011@yahoo.com
I see to it that your Wedding or Event is pure bliss!
Hello and welcome, my name is Amy Esparza and I'm an aspiring Event and Wedding planner. I've planned and budgeted my own wedding as well as a few close friends. That's when it occurred to me this is exactly what I love to do. I enjoy throwing and hosting amazing parties, get-togethers even backyard BBQ's. I love to work close with the bride and groom, even if it's just for the advice I'm always there for them.
I am currently living on Vandenberg Air Force Base, California. My husband is active duty military, and we have lived here for almost 3 years now. I grew up and went to school in Great Falls, Montana. All the events and weddings I have planned, were either my own or friends and family. Events and Weddings are my passion and I put 110% effort into them as if they were my own!
Services
I offer complete Wedding and Event planning services.
(Planning and organization, coordination of all vendors and services, direction and coordination at the rehearsal and on the day of the wedding.)
Or Planning and Preparation Services (planning and organization, coordination of all vendors.)
First consultation is free!

I will travel up to 50 miles from my home, any miles there after will be a flat surcharge of $100.00, but no more than 100 miles

As every wedding and event is different so are the prices.
Please do not hesitate to call or email me with any of your questions, or to schedule a consultation.