Ana Canga
event planner , wedding planner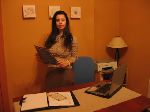 Edinburgh
0044-778969-2464
ana@cangaevents.co.uk
Tailoring your celebration ideas.
Canga Events is a new exciting concept to develop private, wedding and corporate events at professional standards with exclusive attention to details.

Imagine the perfect party: Flavorful, attractively presented cuisine, elegant floral and decoration arrangements with an expert event planning services. You are the relaxed host, confident that all is under control.

Offering styles from traditional to contemporary, Canga Events has provided clients of Scotland with just the right complement of food, decoration and event planning services to delight you and your guests, since 2010.
Both corporate and private clients depend on us to take care of all the details, reliably and with unmatched personal attention.

Our experienced events staff will craft menus tailored to your individual gastronomic and budgetary requirements. We produce successful events that you will remember with great pleasure.

Because Canga Events attend to every detail and anticipate your every need - from invitations to table linens, from bar service to chair rentals - you can sit back and enjoy being a guest at your party.

Described as modern chic combined with traditional elegance, Canga Events has been bringing fresh, unique ideas to celebrations since 2010.
The company incorporates their enthusiasm for detail, their love for quality, their passion for food and flowers and decoration and their ability to design a breathtaking event that will exceed your expectations.
When you hire Canga Events, you get more than professional expertise and you will enjoy highly personalized service. Canga Events take the time to understand your desires and preferences making your vision a reality.
Whether it's an intimate gathering, large wedding or a corporate event, Canga Events will make it memorable. The result is a finely tuned, innovative presentation that you and your friends will be talking about long after the last guests have gone home.
Services
- Birthday parties.
- Anniversary parties.
- Graduation parties
- Themed parties.
- Halloween events.
- Hogmanay.
- Hospitality, marketing, meetings and conference.
- Open house events.
- Engagement parties.
- Wedding receptions.
- Rehearsal dinners.
- Children parties.
- Fund raisers.
- Trade shows.
- Conferences and symposia
- Arts events.
- Funerals.