Jordyn Robinson
event planner , wedding planner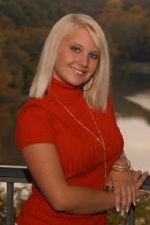 Edinburg, PA
724-510-9021
jrobinson2709@yahoo.com
My name is Jordyn Robinson and I am currently enrolled in QC's Wedding and Event Planning Course. I hope to have my course completed by December 2011.
I am currently planning a surprise birthday party and also assisting in helping plan my friends wedding. Planning events (big and small) is definitely a passion of mine and I can not wait further my passion upon completion of my schooling.
Services
Servicing New Castle
Will plan private parties including birthdays, weddings, anniversary parties, baby showers, bridal showers and graduation parties.
Will also plan corporate holiday parties, fundraisers and open houses.