Dionne Smith
event planner , wedding planner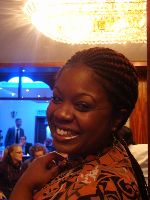 London
Beyond expectations
My name is Dionne Smith and I am an Event and Wedding planner.
I will organise any event, private or corporate in parts or in whole, working tirelessly to provide exactly what you require and making sure nothing is overlooked.
With years of experience I realise and understand that each event undertaken is unique.
Each client, each budget, each location and each brief is different, therefore wherever possible I will tailor my response and creative skills appropriately.
I am currently doing QC Event and Wedding planning professional course to give me all the knowledge I need to start my own business with the experience I already have.
I have studies hospitality at university which was included in my tourism and international business (BA) degree.

I have worked with London Underground Limited organising and coordinating corporate team events and also facilitating at these events.

Through friends and family and word of mouth I have organised and help plan weddings and events such as birthday parties, christening and baby showers. Through the amount of positive feedback and extra clients, I have decided to make a business of it, doing something I really enjoy. Having clients amazed by the results is a good feeling and keeps me wanting to do more.
Services
Services include planning, organising and undertaking all kinds of events. Working to your brief I aim to exceed your expectations from start to finish ensuring a successful and memorable event.
Do you want some fresh and exciting concepts for your next event? Perhaps you need some advice on a suitable venue? Using the knowledge and expertise I have gained over the years I can provide you with the complete event solution.

There is no limit to what is offered. Services include:
Venue finding,
Event management services,
Qualified technical production for full audio and technical support,
Creative event design, decoration, dressing and theming,
Event staffing
Catering options and photography and videography.