Chrystal Dalke
wedding planner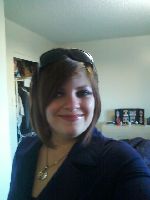 Edmonton, AB
780-977-4858
beautifulfeet@shaw.ca
Your dreams are important to me!
Hi my name is chrystal dalke and i am starting up my own wedding planning services. My company name is Diamond Wedding Planner and your dreams are important to me. I go above and beond what a normal wedding planner dose I make and mail the invations and r.s.v.p cards i also do the wedding programs for your special day!
I go over and above to make your wedding day the best day of your life! I make the invations by a design of your choice and print them out i also hand tie bows on the invites to make them more personal! The invites and r.s.v.p cards do cost extra for me to do myself but i assure you that it is the more cost affective way to do them! I only charge a small amount to do the invites for you. I have just started schooling to better my services for you! I hope to improve on my planning methods and make my price points more effective. And agian your dreams really are important to me!
Services
Wedding invites & R.S.V.P cards
Programs
booking of limo
booking of church and minister or pastor
booking of hall
booking of caterer
booking of photographer
booking of D.J
pre-ordering cake and flowers
pre-booking hotel for after reception.
set-up and tare down of decorations for church and hall
obtaining liqure licence for wedding bar
booking hair and make-up appointments
pre-ordering rentle suites
making up seating plan
making sure the marrige certificate is in order
helping with dress shopping
booking a hall for bridal shower
making bridal shower invites etc....
Testimonials
Our names are destiny and bryan everett we were married on September 4th,2010. Chrystal Dalke did a wonderful job planning our wedding it went off without any major problems she went out of her way several times to make sure that our day was perfect!! We would recomend her to anyone she is extremly talented.