Ashley Hayes
event planner , wedding planner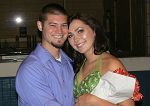 Rocklin, CA
530-845-1547
eventlover24@hotmail.com
Make if fabulously fun, with extra cash to spar!
Hi, My name is Ashley Hayes. I have been doing pageants for 9 years. I pride my self on the community service i do. I have helped H.E.A.R.T a organization from Africa plan 3 large yearly fundraisers, raising almost 300,000. I traveled to Africa in 07. My goal is to be very personable I want you to know and trust my option and be able to ask me anything and know ill answer honestly. I believe I'm not only a event/ wedding planner but also a bridal consultant. With years of pageant experience I love and know fashion well but also know what will look good on different people, and have many tricks of the trade for the big day
I know tricks on loosing weight from pageants 15 years of sports, and growing up in a gym because my mom owned and was the personal trainer. I know how to deal with skin i will make you glow at any event. I am about to get engaged and me and my boyfriend who is in the army have already started planning are wedding. I truly know what you are going through. I do believe that getting ready for a pageant like Miss California which i competed in was the closest anyone can get to being ready for planning a wedding or large event. I have been helping my mom plan charity events my whole life and at 16 started taking them on myself. I am only 19 years old but believe I'm great what i do. I also believe that everything and anything can be gained at a bargain, and if you just put the time in you can always find a better deal or get more for your dollar. I can will make you look amazing on your big day, feel beautiful and calm you down or i can just make a birthday feel very special and memorable.
Services
Wedding Planning
1).(Day of)- $1,500 to make your day prefect.
2).(Prefect day+)- $3,000 to make all day easy plus advice and make all arrangements, but will not look for venues or venders.
3).( All in one)-$ 4,800- Will do everything wedding, honeymoon, venue, theme..make your day perfect and easy for you.

Event planning
1).(Small events)-$800- 50 people or less
2).(Medium events)-$1200- 50-300 people
3).(Large events)-$1500- 300 or more people( price could go up depending on what type of event.

Also discounts may be available on charity or military events.