Kristy Lothian
event planner, wedding planner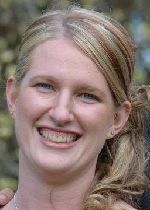 Hawkesbury, NSW, ACT
0421795812
kissweddingandeventplanning@gmail.com
Planning the perfect event for every budget!
About Me

Since 2003 I have worked in the hospitality industry, at wedding reception venues, restaurants & hotels.

In 2004 I was honoured to receive the Queen's Guide Award, as well as the Young Citizen Of the Year Award for the Hawkesbury Region.

In 2005 I moved to Coffs Harbour to undertake University. During uni I had a variety of jobs including Conference Coordinator assistant at East Coast Conferences. Here I had the opportunity to travel to various destinations and assist onsite at conferences as well as assisting with administration duties.
In 2007 I moved to Uluru to undertake an internship as the Coordinator for the Sounds of Silence dinner, and in 2008 I graduated University with a Bachelor of Business in Hotel & Resort Management.
(http://www.scu.edu.au/schools/tourism/eNews/summer2008/index.php/#students-conquer-the-outback)

After I graduated I was offered the opportunity to join the Public Relations Department overseeing the Resort: 6 hotels & 2 campgrounds, as well as help organise community events for up to 600 people. Some of these events included fundraisers, Australia Day & ANZAC Day Celebrations, Balls, Christmas parties & Trivia Nights. I also assisted the Conference & Banquet Department by hosting site inspections of the Resort and the function facilities.

In 2010 we moved back to NSW, where I have been working in the Hunter Valley, then moved to the Blue Mountains earlier this year and am working as one of the Wedding & Event Coordinators at Loxley on Bellbird Hill.

I have a keen passion for Wedding & event planning, and with my experience I can help you plan your next event!
Services
Do you have a special occasion coming up but don't seem to have the time to organise everything yourself? Let me help. I can assist with as much or as little as you need to make your event a success.

Event Services Include:
Wedding Planning
Corporate conferences and incentive trips;
Licensed and non licensed events;
Milestone parties including hens nights, baby showers, birthday parties, valedictorian dinners and many more;
Charity auctions;
Themed galas;
Children's activity afternoons, and
Public events including Clean Up Australia Day, Carols by Candlelight, Australia Day and ANZAC Day celebrations.

Client Services include:
Budgeting;
Organising stationery including save the dates, invitations and announcements;
Sourcing Suppliers;
Booking Venues;
Liaising with MC and live entertainment to ensure the event runs smoothly;
Coordinating transportation to and from the event;
Seating plan and guest list management;
Arranging the cake, decorations and theming of the venue;
Advertising of the event;
Advertising notices for public events;
Sourcing sponsorship for fundraising events;
And anything else you need, the list is endless...

If you are looking to hold your wedding or corporate event at a location outside Sydney, the Hunter Valley or Port Stephens Regions I would be happy to discuss your plans with you. Some destinations may incur a travel fee.

Currently I am only taking on a limited number of functions, so please feel free to contact me to discuss your event needs.

If you are looking into event planning services for community groups and organisations please contact me for an obligation free consultation.
Testimonials
Dear Beth, Fiona, Paul, Mark, Kristy, and all the wonderful staff at Loxley! I have been meaning to send this email since the day after the wedding (Danielle & Michael's big day was 4/6/2011).......! The honeymooners are into Week 3 of their 5 week overseas trip, so it may be a while before you hear from them! Where do I start - to the staff at Loxley, from the maintenance men, the gardeners, the cleaning staff - you are brilliant! Fiona - you are an excellent front desk contact for such an organization - even over the telephone, you made us feel very welcome. Beth - Danielle & Michael had such confidence that you would make sure that their day was as perfect as it was from their first meeting with you. How well you looked after all of us - especially the morning of the wedding! Breakfast was superb, loved the coffee! Nothing was too much trouble for you. Thank you from the "Mother of the Bride" for making Danielle's day so stress-free!! Mark - what a privilege to have you oversee Danielle & Michael's wedding reception. You are a true professional..... I could have listened to your violin/piano playing all night - thank you for sharing your well known musical talent with our family and guests & thank you to Lisa for leaving her sick bed to perform with you. Kristy - well, it may have only been your 2nd/3rd day as supervisor for the dining room, but what an excellent job you did! Thank you! To the chefs - our guests just loved the meal and we are so glad that we could afford ourselves the opportunity of a tasting before making a final decision. Paul - you have built "Heaven on Earth" at Loxley - good luck; we will certainly be recommending "Loxley on Bellbird Hill" to anyone looking for a perfect location for their wedding. "Peppercorn Lodge" was the ideal accommodation for our family.....Breakfast on the Sunday morning was a lovely way to see guests who had travelled long distances to be with the Bagust & Stark families. Best wishes to you - thank you again, we have such wonderful memories of the weekend of 3rd/4th & 5th June, 2011.
Mareeta & Kevin Bagust - Saturday, 4 June 2011
Hi Kristy, Thank you for all your organisation for yesterday. We had a wonderful time, the venue was beautifully set out, the staff were very obliging and their service was great and the food was absolutely delicious. I have had lots of compliments from guests and thought you would like to know. Thanks again, regards,
Alison Hage, Glossodia Public School - Sunday 21st August, 2011