Hailey Crooks
event planner , wedding planner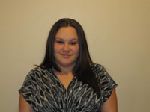 Pickering, ON
647-297-1235
hcrooks@rogers.com
When you have found that perfect person, your special day should be perfect as well.
My name is Hailey Crooks and I am currently enrolled in the International Wedding Planning Professional (IWPP) course at QC School of Wedding Planning. I took this course to further my education. With a diploma in Public Relations where I am certified in event planning, but I wanted to be able to work on both weddings and events.
In 2010 I graduated from Durham College in the Public Relations Advanced Diploma program. As a graduate I am able to work in all areas of Public Relations such as communications, publicity, media relations, social media and event planning. As part of this program I was required to complete two different placements. My first placement was at Durham Community Foundation where I worked as a Public Relations Assistant. My duties there included media releases, media advisories, planning the annual Odyssey Ball gala and the Hole In Won Golf Tournament. My second placement was at The Lake House Event Centre where I worked as an event coordinator. My duties there consisted of planning social events, bridal showers, corporate meetings, networking events and weddings. I also provided possible clients with tours, budgets and accounting.

After completing the Public Relations program I chose to further my education and become a certified wedding planner.

I look forward to hearing from you.
Services
I offer event and wedding planning, communications, media relations, publication editing, publicity and public relations.