Dorothy Acheampong
event planner , wedding planner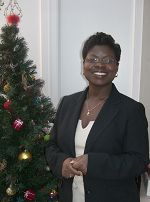 Accra
+233 26 175 1988
info@heavenlyeventz.com
Ghana's premiere wedding and event planning business.
"We'll make your guests say 'Wow!'"

Heavenly Eventz is a professional and family run wedding and events planning business. We are based in the capital city of Ghana, Accra, but can arrange weddings and events in many cities within Ghana.

Heavenly Eventz specialise in creating weddings, birthday parties, anniversary parties and other family and social events with our specialist knowledge and with your specifications.

Heavenly Eventz, in consultation with our clients, are able to actualise events that create positive and long lasting, special memories in the hearts and minds of our clients.
Heavenly Eventz is a wedding and event planning business developed by me, Dorothy Acheampong. Although I am new to this world of business in a formal sense, I have been planning, organizing and actualising events, for friends and family members, over a number of years.

I have an undergraduate Honours Degree as well as various Diplomas and educational certificates. I also hold a qualification for Event and Wedding Planning and am a member of the International Event and Wedding Planning Professionals.
Services
Weddings
There are two aspects to the Wedding Planning Services provided by Heavenly Eventz. The first is for people who live in Ghana as their permanent country of residence, whilst the second is for people who want to come to Ghana to get married (and possibly honeymoon here too). Clients can choose which elements they need support with, or the package as a whole.

In both instances the services offered are as follows;
•Arranging aspects of the ceremony and decoration of the venue as required. This includes;
Choosing the venue, arranging invitations, order of service booklets (for Church services), flowers and other decorations for the ceremony venue, music, bridal and bridal party attire (including bespoke cultural attire), bouquets and button holes, transportation, rehearsal, attendance on the day and clear up of the venue.

•Arranging aspects of the reception. This includes; Choosing the venue, decoration and set-up of the venue, catering (including wedding cake), beverages, music and entertainment, master of ceremonies, gifts/favours for guests and bridal party, transportation, attendance on the day and clear up of venue.

•Arranging honeymoon destinations in Ghana. This includes;
Transportation (including chauffer, flights, coach and boats), hotels and activities (including tours).

For clients coming to Ghana to get married;
•All of the above
•Ensuring legal requirements are met
•Health and Vaccination information provided and arrangements made for medical care in Ghana if required
•Collection from airport and return at the end of their stay
•Arrangements for guest (transportation, accommodation, etc)


All Other Events
Clients can choose from a complete package of services or select particular aspects of the services they require.
The services include;
•Choosing the venue
•Invitations
•Decorating the venue
•Music and entertainment
•Master of ceremony/speakers
•Transportation
•Catering and beverages
•Gifts/favours
•Attendance at the event
•Clear up of the event
Testimonials
" My 60th birthday Party was a massive success and a surprise too! I don't think my family would have been able to keep it a surprise without Dorothy's help. The banqueting suite was beatifully and tastefully decorated. The food selected was great, not too heavy but enough to keep us all going. All my guests commented fondly about the party for long time afterwards!"
Kate Brew
"Dorothy planned my 30th Birthday party for me on behalf of my friends. The party was held on a boat, which I thought was a brilliant, original idea. The decorations and lights set the perfect tone and everyone had a really good time!"
Clarence Mensah