Sandra Melo
event planner , wedding planner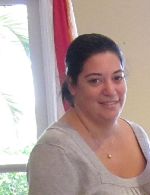 Port Saint Lucie, FL
772-607-0372
sanlmelo@yahoo.com
My name is Sandra Melo, and I am a very creative, motivated person and I have great organized skills. I am a take charged kind of person when things need to get done but I am also a great listener, I will create anything that you want I will make anything happen for my clients. I will get the job done without any hesitating. And I am confident that you will get professional services.
Since living in Port Saint Lucie, FL. I have been very involved in a local charity, this year I was chairperson for the 2nd Annual Luau for Hibiscus Children Center. I worked with their event planner and it was a great experience doing all the leg work that was involved. And when the event was done it was a great accomplishment what I had helped create on two months before the event.
Services
My services include any event that requires handling, Anniversaries, Baptisms, Birthdays, and Corporate Events, Private Functions and Wedding and much more. And I also specialize in Invitations.