Susi Hughes
event planner , wedding planner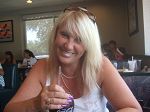 Ringwood
01425 485212/ 07711409888
sdr_hughes@hotmail.com
The Designer....... Specialising in Wedding Design, Events and Interiors
Presently training to become a wedding designer and event planner, I have experience on a small scale with interior design and organising various aspects including honeymoons and holidays to match your requirements.

Over the last 20 years I have had a variety of positions working within travel and hotel and leisure industry. Although I have not ever worked in the industry as a career I have always arranged a variety of moments, which make my life and others colourful and happy.
Susi, who am I?

Well I am a woman who requires some excitement in my life, I have done alot of travelling in my life and still love to go anywhere really. I would love to travel to exotic places and provide a service for those who wish to spend their lives together, I love photography, colour and have exceptional organisational skills. I am funny, honest and after my terrible loss feel that I now have to learn to live on my own and do things that make me happy..so I have decided to try this and hopefully make new friends, and new interests.

I am a mother of 2 Children, now aged 23 years and 17 years. My daughter is presently training to be a hair stylist and would like to specialise in wedding and catwalk presentation. She is qualified also to manicure and pedicure. Her services will be available for anyone who requires that make over for the day.

I have a wonderful home in south west Florida on the Gulf of Mexico which is available for honeymoons or holidays. Please see my website attached.


Due to recent lost of the man of my life I have decided that I would place more colour in my life and decided to try arranging weddings and events, hopefully all over the world with the experience of travel I have gained over many years.

My ideal project would be to hold the most beautiful wedding in the most beautiful place and know that I have achieved it by myself.

So watch this space, Bali here I come… wish me luck and I will hopefully make others very proud of me.