Charita Lawrence-Muhammad
event planner, wedding planner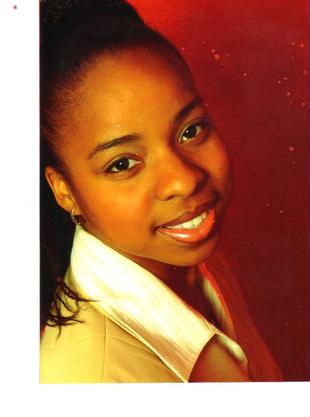 Leland, NC
410-841-9671
charitamuhammad@hotmail.com
Functions planned and executed with an impeccable signature of lovable, quality service and rates.
I'm a 30 year-old navtive of Bloomfield, NJ whom is married to a E-6 U.S. Coast Guardsman and the mother of two beautiful children (boy & girl). I've been married to my high school sweetheart for 11 years and loving it. I have a busy life but I'm only busy with things I love to do. I have talents that I won't allow to go to waste.Therefore, I've been teaching dance for 13 years and loving it. And now…I'm following through with my passion to help bring a person's dream event to life.

Planning someone's event is one I cherish. It's my passion to help others, love others and bring happiness to others. It's nothing like being the reason for someone's happiness and smile. I know what the need for happiness, satisfaction, importance, and perfection feels like. I know what it is to want to bring your dream to a reality. That's why I'm here. I'm always confident, creative and caring about everything I encounter. I can guarantee you perfection because I function from the heart and your envisioned desire. Choose me because I choose you!
I'm also a graduate from Morgan State University in Baltimore, MD with a B.S. degree in Communications. In addition, I'm a certified dance educator for America, AYD certified (highest certification in the nation to work with the youth) and a certified event planner.

I've been planning events since 2003. I've gained experience with event planning through the planning of birthday parties, baby showers, anniversaries, family reunions/trips, corporate meetings, holiday gatherings, ceremonies and weddings (destination too!). I'd love to continue planning these events and adding new events such as bah/bar-mitzvahs and new year's celebrations.

It has been a exciting journey! It's one that I would love to meet you on.
Services
Function from the Heart Events is specially designed to provide clients with valuable, professional, high quality and affordable service along with true commitment to bring the dream events to reality.

I'm available to design the following functions:

Birthday Parties

Anniversaries-Incentive: Free Dance performance done in honor of celebration!

Galas/Balls-Incentive: 10% off final package rate

Baby/Bridal Showers

Weddings-Incentive: Two wedding dance classes FREE!

Receptions

Family Reunions

Corporate Meetings/Luncheons

Recitals

Bachelor/Bachelorette Parties

Fundraisers-Incentive: Staff member will assist and help fundraise FREE of charge!

Holiday Parties-Incentive: 10% off final package rate

AND MANY MORE!!!!!!!!!!!

MILITARY/TEACHER/STUDENT 10% DISCOUNT

*please inquire within for additional incentives.

I work for the client! This company will show the ability to not only make the process stress-free for the client but to offer the skills of professional interaction, great leadership, and listening, understanding and strong punctuality. It's my mission to give each client the upmost respect and undivided attention necessary to leave an impeccable signature on the event so this company will always remain successful. No event is too large or too small. There's no limit! My heart has enough love to give for any function. I create memorable events that will be cherished and never forgotten.

Function from the Heart offers consultations (all clients preferred), planning & prep packages (free consultation included), day-of coordination services (all clients preferred) and complete planning services (all clients preferred).

Consultations are necessary so we can get to know one another and I can begin to hear about the vision you have for your dream function. This is preferred for all clients. Consultations are included in certain packages for free. However, a consultation service alone has a flat rate of $65/hour. All services include a one-on-one 30-minute complimentary consultation.

Function from the Heart wants to provide all clients with the best of the best. Therefore, if an individual, group/family or a business is looking for a well-respected, organized and professional as well as FUN event planner, Function from the Heart Event Design is what your heart should be set on. All services are specifically listed above to make it easier for you to determine if we do/don't offer what you're looking for.

The services are limited per year so I can focus on your event in a timely and "no rush" guarantee fashion. The "no rush" guarantee states that Function from the Heart Event Design guarantees that all events will be ready 90-minutes prior to event in order for any imperfections noticed by the client's eye be fixed in a timely fashion. However, this guarantee doesn't refer to any mishaps/instances that happen during the event unless it's able to be fixed without the attraction of attention from others.

Function from the Heart has set all events at low prices, consultation time convenience and have age level elements for everyone's comfort. These events will be planned by Mrs. Charita Muhammad. Any services requested will begin the week after the initial consultation (not the complimentary consultation) which is scheduled at the client's convenience. Due to high volume of event planning service from Function from the Heart, we perform no more than 12 events per year. Large events such as weddings, balls and recitals require a longer process of planning. Therefore, there's a limit of 3 large events per year. SO REQUEST OUR SERVICES NOW!!!

All packages are priced differently based on the size and type of event. However, the consultation and travel fees are the same.

Consultation (alone) $65/hour
Consultation (pkg.) $55/hour
Travel (small events) $300
Travel (large events) $700

Each small event package includes a total of 7-12 consultations plus (1) complimentary 30-minute consultation. Large event packages include up to 24 consultations plus (1) complimentary 30-minute consultation.

Special services such as dance instruction, personal training, security, videography and photography are all done by recommended professionals that Function from the Heart Event Design has a wonderful rapport/relationship with. Please inquire within during scheduled appointment only. Service(s) costs range from $200-$800. Add a special service and receive 20% off event final cost.

We do require a deposit for all events…big or small. The deposit secures your contract with us, insurance as well as any last minute/on-the-spot payments that must be made to vendors or for certain purchases. Deposit amounts will be given to you during the consultation. No deposit costs will be quoted via phone or email. You must inquire within.

FORMULA FOR PACKAGE PRICING
Deposit+Consult/Travel+Supplies+Vendors/Services+Food+Commission=Your Quote

Function from the Heart is available to you day in and day out. We're with you every step of the way…with every heartbeat you have…with every vision of yours. Our hours of operation include consultation appointments time availability only. However, if you need an adjusted time due to inconvenience, please check with Mrs. Muhammad in regards of an off-duty time. This time is of no extra cost if it's available.

HOURS OF OPERATION

Tuesday 9a.m.-12p.m. & 7p.m.-8p.m.
Thursday 9a.m.-4:30p.m.
Friday 9a.m.-8p.m.
Saturday 9a.m.-1p.m.
Sunday 11:30a.m.-2p.m.


*all times are set unless otherwise noted*
Testimonials
"People pay lots of money for something like this. We saved over half with the services offered and all of the hardwork Mrs. Muhammad put into our dinner party. It was magnificent."
Ms. Ziyadah Muhammad
"My husband and I were married on September 20, 2009. We wanted to have a professional teach us how to dance for our wedding day. The event planner we had didn't have any connection whatsoever. As I began to ask friends and family, they recommended Ms. Charita. After meeting her, we just knew we hit the jackpot! We weren't wrong. Plus she did it in a short amount of time....4 weeks! The quality and style of dance was worth everything. The best thing was that we had fun learning and she was very patient with us. I wish she would've been planning weddings then because just with her detail on many things, I can tell we would've had a gorgeous wedding. The dance we learned stunned the guests. We look like pros. So what advice do I have for you...use her special services because they will be the icing on the cake!!! Thank you Ms. Charita for all that you do and have done! We're very grateful to you for your help."
Mr. & Mrs. Gladden
"AWESOME, AWESOME, AWESOME! She knows what she's doing. She's very detailed and definitely makes sure you get the best for the buck. She plays no games and negotiates to the fullest. Function from the Heart Event Design is definitely the spot that guarantees your vision...enhanced! All love to you Mrs. Muhammad. You made my event the best."
Ms. Lastarsha Greene