Mystalee Minogue
wedding planner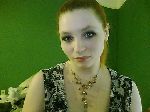 Windham, NH
mystaminogue@yahoo.com
Creative,Caring, and personal service for Wedding Planning.
Hello, My name is Mystalee Minogue and I am 19 going on 20. I have a passion for wedding planning. I take great pleasure in matching colors, creating themes, organizing information, advising people on the invitation selections, and I most enjoy watching the look of the grooms face when he catches his first glimpse of his beautiful bride. I may be young and inexperienced but I have have the passion and drive for this wonderful profession. My first wedding that I am planning is for my best friend next summer after she has her baby. I look forward to planning and helping create many more weddings that the bride and groom will always remember.
Services
I offer personalized wedding planning detailed to fit your specific needs and wants. My job is to give you a day you will look back on as the happiest day of your life. I offer planning from the engagement party straight through to the day of the wedding. All my services can be customized to fit your specific needs and any budget.