Eudora Bangura
event planner, wedding planner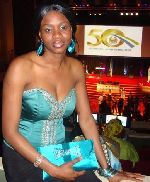 London
07985635654
eudora@eehireservices.co.uk
Adding Class to Your Event.
The benefits of hiring an Event Planner?

Here are some really good reasons:

Knowledge: An event planner's knowledge ranges from which suppliers and venues are most suited to your style and budget, to which prices are acceptable and which are not.

Save time: Instead of sitting in front of the internet for hours sourcing different venues and vendors - the hard work is done for you. All you need to do is pick from a short list of suitable suppliers and venues.

Organisational skills: Event Planners organise everything from sourcing decorations to organising catering ideas. With the help of a event planner, nothing will be left out.
Detail oriented: Event Planners are there to make sure nothing is left out. After planning many Events, they know exactly what every occasion needs and what other events may require. Everything is in the detail!

Save money: The hardest thing you will find when planning your special occasion is finding the best price, especially if you have no expectations about what things cost. When you hire an Event Planner they are there to do all the negotiating for you – to ensure you get the right price.

Sticking to your budget: An Event Planner can and will stick to your budget. Their expert advice, recommendations of suppliers and their cost-saving tips will ensure you do not go over budget and can sometimes even save you money.

Stress free: Many hours go into planning that perfect party or special occasion that can often leave people feeling stressed. With an Event Planner those worries are taken away for you. You can enjoy your occasion without the stress.

Flexibility: From as much or as little input as you wish, from small-scale to large-scale and suiting all themes and other requirements, event planners have flexibility in the way they work. They need this as no two events are the same.

I am here to offer all these services to you and make your day one to remember.
Services
Exclusive Events Hire Services Ltd is the company I work with.
Our main aim is focused on providing high-quality service and customer satisfaction - we will do everything we can to meet your expectations.

Our company is based on the belief that our customers' needs are of the utmost importance. Our entire team is committed to meeting those needs.
As a result, a high percentage of our business is from repeat customers and referrals.

We would welcome the opportunity to earn your trust and deliver you the best service in the industry.

We can manage your whole event or simply supply all you need for a great event

We offer a one stop service.

Event Planning,
Hiring Services and lots more

Why not check out our website - www.eehireservices.co.uk


With a variety of offerings and packages to choose from, we're sure you'll be happy working with us.
Testimonials
Also thanks for being so flexible with my ever changing requirements; it was a pleasure dealing with you. Kind regards
Farrella (30th Birthday Party)
I must give a million thankyou's to the EEhireservices team. Never before have I seen such an outstanding level of professionalism, customer services and attention to detail. Because of your dedication and commitment to the sucsess of The Amazing Women Awards 2011, the event was a complete sucsess. Your decor far exceeded any of my wildest dreams, I was sooo impressed that I have recommended you to everyone I know! Please continue in what you do! And of course you will be doing The Amazing Woman Awards 2012.*****.Thank you Thank you Thank you Thank you
Makeda Ubiaro(Organizer)
Eudora you are so special to us and we are very happy for the services you provided for our Wedding on the 5th of November 2011. when I watch the video and saw the photos I was shocked to see the beautiful designs , plates, spoons, decorations and flowers. Thanks for the hard work you did,I felt happy and blessed. May God continue to bless you and your family and may you progress on and on.
Lots of Love From Joya Macarthy.
See All Testimonials