Shae Lyn Trombatore
event planner , wedding planner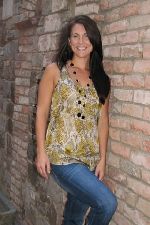 Lincoln, CA
916-960-6894
sltrombatore@gmail.com
Professional and creative event planning services to turn your dream event into a reality!
Hello, and welcome to my website!
In the last 2 years, I have realized that my passion and talent lies in creating that unforgettable day that so many people simply do not have the time to put together themselves. I strive to work with my client on making sure their event reflects who they are, and really bring that into the design of the event or wedding. The most important thing I can do for my client is to listen to their ideas and aspirations, work within their budget and create nothing short of a masterpiece that will never be forgotten by them or their guests.
In just 2 short years I have worked on events ranging from Fundraisers to weddings, and currently working on smaller events like retirement and milestone birthday parties and baby showers to an elegant spring wedding. All requiring a very different design approach, each event has opened me up to new ideas, exposed me to new vendors, and I'm always learning how to provide the best possible service my client has hired me to do. In the end, seeing those smiles at the end of the day drives me to continue doing what I love most, and that's turning your day into your reality.
As I complete my certification with Quality of Course Event and Wedding planning school, I will continue to concentrate on building my business in the corporate, private events, and wedding industry and focusing on putting together 'packages' that will best suit my clients and their budgets.
Services
First and foremost, my number 1 priority is designing an event to exceed my client's expectations as well as staying within your budget. In the initial consultation I love hearing your ideas and vision for your event and working with you on taking it all to the next level! On some occasions, my clients may not have an idea or vision, which is where my expertise in design and creativity and fresh ideas will take over. Many people find this service a 'must', and I'm happy to develop the event from the ground up, so to speak. However, I find some people may just need my services for vendor recommendations, and 'day of' services. Rest assured, your needs will be met with organization, inspirational designs and professionalism in order to reflect your own personal style and taste into your event. No dream is too lavish to turn into a reality!
Please call me to find out how we can get started on your dream event, today!