Jackie Van Zanten
wedding planner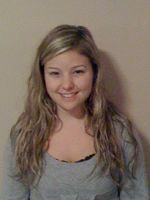 Surrey, BC
604-307-8536
Jackie.vanzanten@fraserhealth.ca
Let me help you make your dream wedding come true!
Welcome! I'm sure you are excited about your wedding day! I am fully dedicated to making your dream wedding come true!

Planning a wedding is exciting, but it can also be stressful, and very time consuming. It takes precious time away from your work, your social life, and most importantly, your relationship with each other.

So please, let me take care of the details, this is your special day. My goal is that you feel confident and relaxed as you enjoy your special day!
I recently graduated in the Spring of 2010 with my BA from Trinity Western University, where I studied Education, Psychology and Sociology. I have always had an interest in planning weddings, but recently, that interest has flourished into an exciting opportunity for me. When I found QC School of Wedding Planning, I decided to jump into the world of wedding planning.

Please keep your eyes peeled; Happily Ever After Weddings will soon have a website!
Services
I am excited to hear from you, and hear what your vision is of your special day! Since no two weddings are exactly the same, I have different packages to offer you.

Hourly consultations:
Help to develop a colour trend, theme, and overall vision of your wedding, Vendor research and referral, vendor visits (with you or on your behalf), budget preparation, decoration suggestions, timeline, DIY projects (help with invitations, centerpieces, favours), etc.
$40 per hour, with a 2 hour minimum.

Wedding Day Coordination:
1 meeting prior to wedding day to review wedding day details, develop an itinerary, finalize and confirm vendors. Unlimited phone calls and emails leading up to and during the day of your wedding. Myself and an assistant will be at your Rehearsal, Ceremony and Reception. Will help with the set-up of both the ceremony and reception, directing and supervising vendors upon arrival and during their set-up. We will also handle any final vendor payments, orchestrate overall flow and success of the day by managing the wedding day timeline. Complimentary use of Wedding Day Emergency Kit.
$500

Full wedding planning
Budgeting, Timelines, Vendor research and recommendation for your specific style/preferences, booking appointments, attending up to 3 vendor appointments, unlimited phone calls and e-mails, and of course myself and an assistant will be at the rehearsal, ceremony and Reception. Includes everything in "Wedding Day Coordination" Package, including complimentary access to the Wedding Day Emergency Kit.
1500+


Please contact me and we can discuss a specific package catered to your needs!