Krysta Merkies
wedding planner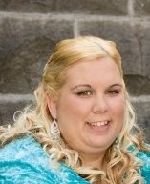 St Catharines, ON
Krysta_Merkies@hotmail.com
Imagine This...
Just imagine your dream wedding and let me help you make it come true!
Hi, I'm Krysta Merkies, wedding planner. I have always been a very organized and detail oriented person, but it wasn't until I planned my own wedding that I realized how much I enjoyed event planning. I know personally how stressful planning that perfect day can be and I am here to help you in any way I can. I would love to put my skills and knowledge of the wedding planning business at your fingertips and make your special day truly magical.
I am currently working as a personal support worker and doing event planning in my spare time. Once I graduate from the QC Event and Wedding Planning course I plan to work full time as a Wedding Planner. My biggest event to date that I have planned was a surprise 50th wedding anniversary party for 100 guests. I am very pleased to report that it went off without a hitch and the client was very pleased.
Services
The wedding planning services I am currently offering are as follows:

Hourly wedding planning services

3 consultations and day of service

Complete wedding planning services