Melissa Evans
event planner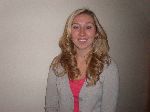 Pittsburgh, PA
melissa.evans01@yahoo.com
Allow me to make your life easier.
The purpose of an event is to gather friends and family to celebrate and share a joyous occasion. Trying to plan a party while working full time and maintaining a family can be extremely stressful and overwhelming. Allow me to make your life easier, by planning your next event for you. My goal is to create beautiful events that fulfill your desires, reach perfection, and remain stress-free for you.
I graduated from Saint Vincent College with a Bachelor of Arts degree in Communication and minors in Business Management and Operational Excellence. Shortly after graduating, I was hired as a Special Events Coordinator at a nonprofit. While in this position, I gained valuable experience in planning large fundraising events, but I also realized my passion for event day activities and decided I would like to pursue a different aspect of event planning. At this time, I enrolled in the International Event and Wedding Professional Certification program to better form my skills as an event planner. To further network and explore job opportunities in Pittsburgh, I applied and was selected as a Chair of the Signature Gala Event for the Pittsburgh Young Professional nonprofit organization. I believe that my event planning experiences, and excitement for the career will carry me through as I begin my journey as a certified event planner.