Candace Groom
event planner, wedding planner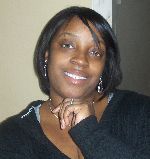 West Haven, CT
203-641-0612
candace@eloquentoccasions.com
Eloquent Occasions - Vividly Expressing Your Occasion.
I know your time is valuable. I also know how important it is to leave a lasting impression on your guest. That's why I'd like you to call Eloquent Occasions for your next event or special occasion. We are a full service event/wedding planning company. If it's your heart's desire, we do all we can to make it happen. We take a different approach to events. Eloquent Occasions uses the five senses to appeal to your guests. We also make sure that you have as much fun as we do when planning your event or wedding. Ask us about our pre-arranged wedding vendors.
I have been planning events for family and friends for the last 8 years. I've wanted to have an event planning business for the last 5 years. However, changing careers in this economy would be no small task. I knew I needed to offer something different to succeed. I went back to school and obtained a Bachelors degree in Business Management. I also took a course that has certified me as an event and wedding planner. With the knowledge of how to run a business,and how to plan to events and weddings, I needed that secret ingredient of what would make my business stand out. That's when I decided to incorporate the 5 senses into all events. This makes planning the events a fun aspect to not only us, but to the clients as well. I also found a way to help those that feel like they can't afford a wedding planner by partnering with various vendors that offer great discounts to our clients. While we do get the job done, we also have fun. That's what we look to bring to our clients. We take away the stress of planning events but when your input is needed, we make sure you don't stress it.
Services
Consultation
We discuss the details and goals of your event. We discuss various ways to make your vision a reality. Consultations are free if Eloquent Occasions are contracted to plan your event.

Planning and Preparation Package
Includes the consultation in addition to locating vendors and services needed to complete your event. We will coordinate all details of your event up to the day before it takes place.

Day-of Services
Applies to events, weddings (ceremony and/or reception),and parties. We oversee your event the day it is held. Eloquent Occasions will be available to give directions, problem solve and coordinate your vendors as needed.

Complete Planning Services
Eloquent Occasions will plan the entire event or wedding. We personally oversee and coordinate all activities on the day they are held. We also assist in post event tasks such as clean up and break down services and even send out your thank you notes.

Field Trip Planning
Eloquent Occasions will plan field trips for your school or business. Just let us know what subject area your working on and we do the rest.

Team Building Program
We know how important it is for your employees to be able to work as a team. Eloquent Occasions provides various activities that will teach your employees to work as a team to accomplish a task. Our program is fun and informative.