Rebecca Slater
event planner, wedding planner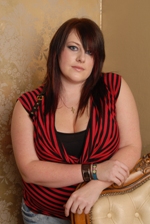 Kirkham, Preston
07540270974
slater.rss@blueyonder.co.uk
Planning your Event - Even at the Eleventh Hour!
Hi, my name is Rebecca Slater and I am 25 years old. I am currently engaged to my wonderful partner and have started the immense task of planning my own wedding. I am completely aware of how much work is needed to provide you with the perfect day, I am here to ease your mind, to take care that all the little details - even those you don't realise exist - are 100% perfect and catered for. Although I will predominantly focus on Weddings and Birthday Celebrations, I am available for any Event that you believe requires a professional touch.
I am currently part way through my studies with QC School of Event and Wedding Planning and thoroughly enjoying every aspect of the course.

Upon the official start up of my business and completion of the IEWP Programme – which is widely recognised around the world – I will be amongst those who are eligible to join the following excellent professional associations:
> The UK Alliance of Wedding Planners (UKAWP)
> The Association of Bridal Consultants (ABC)
> The Association for Wedding Professionals International (AFWPI)
Therefore you can be sure that every bit of work I do for you will be to an exceptionally high and professional standard.


Having planned a few family celebrations including my Sister's 18th and my own 21st I realised my love and passion for events. I strive for perfection in every aspect of an event, not necessarily chinaware and teacups but perfection in the client's eyes. Whatever you envision your day to be that is what I will create – from an Alice in Wonderland Tea Party to a Medieval Ball It can all be catered for from start to completion helping you remain calm and stress free.
Services
If your area is not listed above please feel free to call as I am willing to travel throughout the North West - a travel charge may be required depending on distance.

I am aware that for any event to be truly memorable, whether a Birthday, Wedding, Office Party, or a general Get Together, it has to be uniquely personal to you, the client. This is why I will take the time to work together with you to learn your true aspirations to create an event that reflects your personality. Whilst still allowing you to be an integral part of the planning.
I can be on hand for just help and support or you can give me the reins and I will take the hassle out of the creation of your perfect day.
From an initial consultation we will discuss your ideas whilst I'll also share some of my own. You'll only have one Planner – Me! Therefore there will be no misunderstanding between other planners on what you want from your day, you will not need to continually repeat yourself or get frustrated with never knowing who's in charge of which aspect of your event.
I can do as little or as much as you require, and can tailor any package to match your requirements and budget. I offer a wide range of services from:
Full Wedding and Event Planning – A Start to End package and everything you could possibly imagine (and more) in-between.
Partial Wedding and Event Planning – This is a smaller selection of the services I offer in comparison to the full planning package and is completely customisable - allowing you to use me for whatever you need, whether you don't have the time or even just require expert opinions along the way.
I also provide: On The Day Co-Ordination, vendor searches, Budget management, Venue Searches, Design and Theme Creation and many other services.
I am here to help with your special day, whatever you require, give me a call, there will always be something I can do to help. Even at the Eleventh Hour.