Sarah Mcdonald
event planner , wedding planner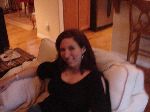 San Luis Obispo, CA
805-762-4722
sarahmweddingplanning@gmail.com
Your dream wedding made picture perfect.
My name is Sarah McDonald. My business is Picture Perfect Wedding Planning. I'm very hands-on when it comes to decorations and other elements of weddings. I really love to get to know my clients so I can give them exactly what they want and need. Don't have any ideas? It's OK because I have an extensive collection of wedding books and magazines, so give me a call at 805-762-4722.
I offer a variety of wedding and event planning services. I'm very friendly and organized so you know you will be in good hands. I have graduated from US Career Institute on March 24 2011 and I am currently furthering my studies in The QC School of wedding planning. I'm very open-minded about designs and decorations. I also try to make sure I can work with you budget, which means my prices are flexible.I'm just starting out in the wonderful world of wedding planning so I don't have any experience other then school right now, but I am fully prepared to plan an actual wedding.
Services
Weddings
Wedding Parties (bachelor/bachelorette/engagement)
Baby Showers
Funerals
Grad Parties
Birthday Parties
Anniversary Parties
Each item has other options to go with them and that information will be available on 04/10/2011
Call Sarah for more info