Jenna O'Connell
event planner, wedding planner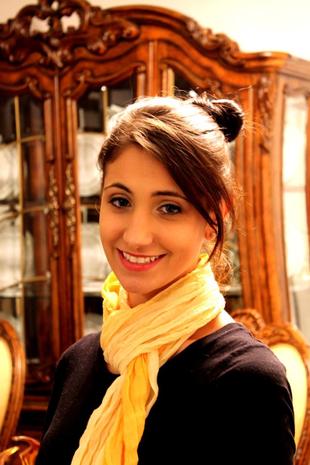 Brampton, ON
647-278-5072
jenna.oconnell@hotmail.ca
Prestigious Affairs "Helping You Create Everlasting Memories."
Whether you're putting together a birthday party for someone special or you just said 'yes' to the most wonderful person in the World, one of the first things that runs through your mind is how much planning and organizing you have to do now. The guest list, the invitations, and what colour scheme or theme are you going to go with? Then there are still the decorations, music and food to think about! Now you're scared that you're going to forget something, be it small or large. You think you need a helping hand. There's no need to worry. You've come to the right place. Prestigious Affairs is here for you!

Hello, my name is Jenna. I am new to the event and wedding planning industry; however I have not come in to the industry without any experience. Growing up, my mom was forever planning and organizing events for our family and close friends. I was always her helper. We discussed and planned seating arrangements, decorations, locations, menus, music and themes. We also incorporated activities, games and other novelty ideas giving me a pretty extensive background. You can consider yourself in safe and capable hands.
While going through school, I worked in a post office. Now you may think that that has absolutely nothing to do with event and wedding planning. However with working in such a fast paced, intense environment I was able to perfect my time management skills as well as problem solving skills and I quickly learnt how to respond in difficult, high stress situations. I also learnt that the customer always comes first and they are always right. That being said, I'm a great listener and will work extremely hard to reach your goals and accomplish your vision to sheer perfection.

I understand how important tradition is when it comes to events and weddings. Even the smallest gathering has such great importance behind it when spent with loved ones. But even the small events require a lot of planning, organizing and time. And that is exactly what you can count on me for.
Services
I'll work with you every step of the way. I am able to do as little or as much as you need. I'm here to provide you with the peace of mind you are looking for and make your event or wedding your dream come true while staying on budget.

There is no need for you to stress over all of the small details.

A list of services that I offer are:

Consultation:
The consultation can be for as long as you would like. This will be where we begin to get to know each other and establish your vision, your budget, your likes and your dislikes.

Budget Management:
I will be sure to keep within the budget we have spoken about to the best of my ability. If we are in fact in danger of going over budget, we can sit down and go over all cost details at once so we can discuss where to cut down on something or renegotiate the original budget.

Booking Vendors:
Upon your request I am able to book what ever vendor you have decided to go with for your day as well as set up times in which we would be in need of their specific services.

Payment Detail and Updates:
If left in my hands, once any of your vendors have a down payment or full payment you will know. I will also provide you with written updates throughout our planning process so we are on the same page the whole way through.

Vendor Conformation:
I will call vendors well in advance as well as just before the day of to make sure that they are scheduled to accommodate the need of your event that we have previously agreed upon.

Guest List Management:
If you wish, I am able to keep track of all R.S.V.P.s as well as keep you up dated on the responses.

Rehearsal Coordination:
A rehearsal is never a bad idea when it comes to large events or ceremonies. Upon your request, I will be there to organize all the small details like where to walk and go through a rough idea of what is going to take place the day of with everyone attending.

Day of Coordination:
Be it your baby shower or your wedding day, a set plan will help keep everyone happy and having a good time. We can sit down and discuss how you would like the day to go in coordination with the vendors and work out a plan to keep everything running smoothly.

Attendance:
Not only will I be there for you on the day of but as long as my availability provides, I will attend all vendor meetings and consultations. I will also be there for all of the set up before hand and the clean up afterwards.

Activities:
If you wish to have certain activities planned for the day of, I am able to arrange the activities as well as come up with a few theme related activities for you to choose from if in case you don't already have ones in mind.

Honeymoon:
Once all the hard work is over and done with, I'm sure you have a lavish and relaxing idea of how you would like to spend your honeymoon. Allow me to assist with those detail as well. Be it a weekend getaway to a cozy little cottage or a two week stay at a resort on a lovely beach off the coast of a tropical island, you can count on me to plan not only your special day, but the wonderful time following as well.

Research that I am able to provide you with upon your request will be from the following list:

Venue Research
Stationary Research
Photographer/ Videographer Research
Caterer Research
Floral Research
Decor Research
Favors and Gifts Research
Attire Research
Hair and Makeup Research
Transportation Research
Accommodation Research
Entertainment Research
Musical Research
Electronic Research

Once provided with the research, don't feel like you are going to be left on you own to decide which one is best suited for you. I am able to give you my personal opinion as well as set up meetings with each of your favorites to help you narrow it down to the perfect vendor.

Please do not hesitate to also ask me about something that you may not see listed above. If I don't already know how to help you with it, by all means I will find out so please feel free to ask.