Angela Brassell
event planner , wedding planner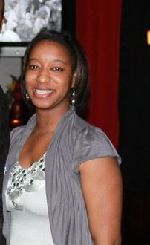 Woodbridge, VA
703-398-1140
bkreativevents@gmail.com
With A Touch of Finesse!
About Angela
Attention to details, organized, diplomatic, caring, and optimistic- those are a few words that have been used by colleagues that describe her.

Upon graduating from Radford University with B.A. in Political Science, and a Masters from Marymount University in Legal Studies. My legal profession has allowed me to learn the true meaning of negotiations, getting what you want is only a matter of asking for what you want. "You can always have your cake and eat it too!"

I am completing the Independent Event & Planning(IEWP) Certification to provide professional event planning services in the Metropolitan area.
At the age of 9 she knew she wanted to be involved in performance arts. Her love of dance given her the confidence and creativity to see intangible concepts form into tangible visuals.

The concept of one single movement that connects with additional movement enabled her to piece together choreography. To know that starting with one movement that created a full dance performance was self gratifying. The vision that once was inside her mind has physically taken on a life of its own.

In 2008, after assisting her best friend planning her wedding, and her own in 2009, she knew that she wanted to channel her energy and expertise into one area-Event planning. Her professional working experience has contributed to her knowledge of key components of event planning.

B KreativEvents approach to planning is ensuring the customer is always comfortable with all decisions for their event. Your vision is our mission.
Services
Corporate Event Services
"Business executives overwhelmingly agree that face-to-face meetings are not just preferable but necessary for building deeper, more profitable bonds with clients and business partners and maintaining productive relationships with co-workers."
~Forbes, September 2009


Personalized attention, our team will ensure that your individual needs and ideas are fulfilled. From start to finish, your event will be a priority with our event management team.
-Award Ceremonies
-Conferences
-Holiday Galas
-Fundraisers/Non-Profit
-Grand Openings
-Seminars


WEDDING SERVICES
B KreativEvents, LLC is here to make sure your dreams come true, its much more than finding the perfect location for a wedding, its our priority to get to know our clients and so we can instantly relieve the stress and confusion of the process.


*Chassé Package*
When a Bride and Groom that want to "have their cake and eat it too'. Give us all the details so we can organize the information to run your event flawlessly. The newly Mr. & Mrs. will definitly enjoy their event and be at ease on their wedding day. The only responsiblity for you is to walk day the aisle, we will handle every detail.

This package includes:
-Unlimited meetings and communication 1 month from your wedding date.
-Attend a walk-through with you at your ceremony and reception locations.
-Attend and run the rehearsal.
-Contact all vendors the week of your wedding to confirm details, act as point person moving forward and assist with other information they may need.
-Take all wedding items (decorations, programs, place cards, candles) from you to bring to the wedding site.
-Assist in setting up, decorating, breaking down the event and address any issues that arise during your wedding.
-Pack your gifts and other wedding items at the end of the evening to be sent home with delegated person(s).
-Manage your event so you can fully enjoy your wedding day.

*Pirouette Package*
This partial planning package that is for the couple who wants to take an active role in their wedding while seeking professional assistance in certain areas. Many couples have a vision of their wedding but need help executing their ideas. It might be due to a lack of time or not knowing where to look. In addition to helping you plan, we'll be there to run your event.

This package includes:
-Review your budget and make recommendations.
-Unlimited phone and email contact.
-A total of 6 meetings. These can be used to meet with other vendors, a walkthrough or just to catch up on planning.
-Assist with selection of 6 vendors. We'll make 3 recommendations for 6 vendors. We will review contracts of each selected vendor.
-Provide a customized planning timeline.
-Day-of Coordination is included.

*Grande Plié Package*
Full Wedding Planning is for the couple who doesn't have the time to manage the numerous details involved in planning a wedding. We get involved in every aspect of planning and make it easy for you to make decisions. We understand its your wedding and in every way we will provide concepts that reflect you as a couple.

This package includes:
-Review your budget and make recommendations.
-Unlimited phone, email and meetings.
-Assist with selecting 12 vendors for your wedding. We'll set up meetings and attend with you.
-Create a custom design concept for your wedding day so it is unique and special.
-Provide a customized planning timeline.
-Assist with the small things such as collecting your RSVP's, welcome bags, mailing invitations and so much more.
-Day-of Planning is included.

**All packages include one assistant on the wedding day.

We also specialize in Bridal Showers & Bachelorette Parties!!

If you need assistance in determining your individual needs based on your style and budget, we would love to sit down with you and put together a package and price that is right for you. Give B KreativEvents a call or send an email to schedule a initial consulantation.

Event Planning For All Occasions

Our Events Planning Services include a variety of meaningful activities. Once you explain your event details of your event to one of our competent consultants, we pull it all together to make it something amazing as you and your guests sit back and enjoy the event.

Private Parties
Retirement
Family Reunions
Baby Showers
Birthday parties
Graduation

Call me to set up an appointment for your initial interview and allow yourself the luxury of planning with a personal, caring and a professional.
"Leave the stress to someone else."