Anna O'Neill
event planner , wedding planner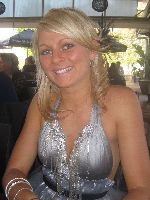 Brisbane
0413149101
annacaroline8989@hotmail.com
Let me plan your next champagne event on a beer budget!
I value the moment that a event/ wedding planner can create and have always admired the hard work that goes into every detail. I discovered my love for event planning through my natural inclination to plan holidays, events for friends, whether it be work functions, birthday parties, engagements and weddings. I can't live in the moment, without having a plan for the next.
I am currently working fulltime as a sales manager and am seeking new employment opportunities and a change in my career path. I have a Certificate II in Business and a Certificate in Sales Professional Training. I have completed core units in the Diploma of Applied Fashion Design and Technology and am currently studying Event and Wedding Management with the QC School of Event and Wedding Planning.
Services
As I am not fully qualified yet I am happy to help out with any events that may need another hand on deck. I would love any experience that may be offered within Brisbane. Please email/ call me if I can help in anyway.