Qiana Coffee
event planner, wedding planner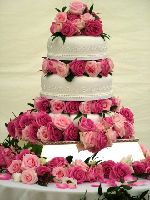 Grand Prairie, TX
512-436-4255
eventingyou@yahoo.com
Invent, Invite and Event! This is my passion not just a hobby!
Greetings to you... My name is Qiana Coffee and I look forward to hearing from you. I am an event and wedding designer. I want to assure you that I will bring your event to life with the passion I bring forth in creating your perfect occasion of choice.

I will provide basic to full-service wedding and event planning custom designed just for you.

If you choose to use my services you will be met with extreme professionalism, exquisite style, impeccable service and punctuality.

My services provide you a stress-free event as I am your negotiator, mediator, and I do all the foot work for you. All you have to do is just show up.
I have pursued a passion in becoming a wedding and event designer. Starting from kindergarten and a box of crayons to taking my talents and perfecting them with certified training here at QC School of Event Planning. I have been planning for a few years now professionally, from baby showers to weddings. I started out my passion by making handmade gift baskets, baby shower gifts, selling candles, and planning company meetings. I created drawings and decorated daycare rooms for a well known daycare chain, as well as decorated their entry window for a March of Dimes Fundraiser. I have volunteered and created informative boards for government agencies and an electronic store.

I have spent many years researching books, magazine articles, internet websites, and watching wedding planning episodes to gain additional experience on top of my already gained experience.
Services
Please contact me for a complimentary consultation offered on all event services.

The Consultation: This is our time to meet one another to discuss the perfect event. I want to learn about you and your expectations, so I can paint you a perfect picture of what I can offer you. Customized Services to fit your budget.

*** Remember this is my passion, and not just a hobby.*** I only plan events and will not try to cross-sell you other businesses. Any other services I offer all tie in directly with planning services. I am here to offer you a stress-free wedding or event. Weddings, socials, or corporate event planning, my goal is to exceed your expectations.

Services Offered: (Please contact me for any services not listed)

Weddings: Partial or Full Service Planning
- Wedding Proposals
- Engagement Parties
- Bridal Showers
- Bridal Luncheons
- Bachelor(ette) Parties
- Wedding ( Present for duration of Wedding)
- Wedding Rehearsals

Events: Social/Corporate
- Just Because Parties
- Girls Night Out
- Emancipation "Divorce" Parties
- Baby Showers
- Anniversary Celebrations
- Birthday/ Sweet Sixteen's
- Bon Voyage/ Going Away Parties
- Dinner Parties
- Graduation Festivities
- Housewarming Parties
- Retirement Parties
- Weekend Getaways
- Community Galas
- Corporate Launch Parties
- Customer/ Employee Appreciation Events
- Romantic Gift Suggestions
- Fundraisers

* Recommendations for local vendors
Testimonials
January 30th, 2011 Qiana, We definitely could have not done this without you. Thanks a Million, on second thought, make that a billion! We can not begin to thank you enough for everything you did for our wedding! We really appreciate you and just wanted to thank you for helping out....thanks again!
Kendra & Brandon