Reggie Hughes
event planner , wedding planner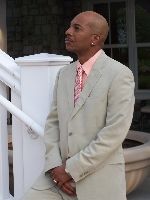 Delaware Tri State Area, DE
302-373-8443
SopGalas@gmail.com
Sophisticated Galas! Where Elegance is to be Expected...
Sophisticated Galas! My name is Reggie Hughes, born and raised here in Delaware. I moved to Middletown, Delaware in 2007 and fell in love with the up and coming area. I started event planning in 1997 as I planned my own wedding. Through the years, many friends and family tapped my talent and eventually I started offering my service full time.

My love for event planning comes from being given an idea and turning that vision into a Sophisticated Gala. Watching my bride and other brides walk down the aisle with their fathers or seeing a client walk into a room that has been completely transformed give me a sense of accomplishment.
Reggie has over 14 years of special events experience. He graduated from the Wilmington University with a BS in Human Resource Management and a MS in Organizational Leadership. He has planned numerous weddings and receptions, birthday parties, family reunions, expos, walk-a-tons, and parties.
Services
Finding new and innovative ways to express the vision of the client is the reason we took a leap of faith and launched Sophisticated Galas. Our potential customers would be anyone who has found a reason to celebrate a professional accomplishment, a rite of passage, or life changing event such as marriage.

Sophisticated Galas is a company that prides themselves on being professional, committed and enthusiastic towards every event. We never decline a challenge and are always looking for the next incredible design idea to reveal to our clients.
We intend to form special relationships with all our clients as we help prepare their extraordinary event and it is our job to make sure the client is at ease through the process.

Our philosophy for this business is that we are here to bring your vision to reality. Anyone can have an amazing idea but without the right people, your idea may never see its true potential.